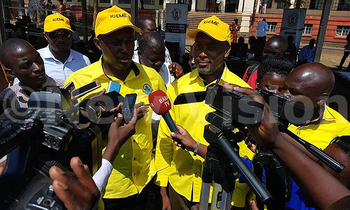 PIC: Jinja West MP Grace Balyeku and Nathan Igeme Nabeta talking to the press. (Charles Okalebo)

JINJA BYE-ELECTION

JINJA - The National Resistance Movement (NRM) has refuted claims by the Forum for Democratic Change (FDC) that their party, National Identification Registration Authority (NIRA) and the Electoral Commission (EC) have a plot to inflate the number of voters on the register for the Jinja Municipality East bye-election.

The Jinja NRM district secretary, William Kato Kaziba, said Paul Mwiru, one of the candidates, should stop making 'baseless' accusations against the NRM flag-bearer, Nathan Igeme Nabeta.

Kaziba, who was campaigning for Nabeta in Walukuba/Masese division on Friday, urged the electorate not to listen to such fabricated information.

Kaziba said Mwiru accused the NRM, NIRA and the EC of conspiracy to inflate the number of voters in the constituency from 26,000 to over 28,000 in the register by importing people from Iganga and in some parts of Jinja district.

Mwiru allegedly said the voters' register had been inflated by 2,072 voters, who used to cast their ballot from different areas in the region.

"I cannot allow this to happen because this is a bye-election not general election to allow people change their locations of voting, this is plan 'B' for the NRM to deny me my victory again as they did in February, 18, 2016 general elections" Mwiru said during a press conference on Thursday.

Nabeta in response to the allegations, requested his opponents to stay calm and canvass for votes, instead of inciting the public with baseless information.

"I do not have time to argue over that because I neither an employee of the EC nor of NIRA to defend the allegations," Nabeta said.

He, however, requested Mwiru to stick to issues he can do for the people of Jinja East than wasting time lamenting.

The deputy national NRM treasurer, Dr Keneth Omona, cautioned the voters of Jinja East to remain calm during campaigns because they were going to remain neighbours.

Omona also requested residents to vote for Nabeta, saying he is the only one who can ensure that government programmes are implimented.

The bye-election has attracted eight candidates and election is slated to take place on March 15. Others in the race include, Christine Abuze, Francis Wakabi, Faizal Mayemba.