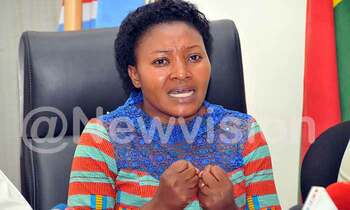 PIC: Winnie Kiiza, the Leader of Opposition. (Credit: Eddie Ssejjoba)
POLITICS | SECIRITY
KAMPALA - Opposition MPs have appealed to the Government to undertake measures so as to end the rampant murder incidents in the country.

The Leader of Opposition, Winnie Kiiza, attributed the deteriorating security situation in the country to infighting within security forces and incompetence of those who are in charge of security.

The MPs said if the murder incidents are not ended, the situation might scare away tourists and investors and eventually cripple the country's economy.

"If parliament is not recalled by the Speaker next week, we shall invoke rule 21 and collect the required signatures to recall Parliament," Kiiza said. She added: "If we do not get satisfying explanation on measures to be taken, we shall demand the resignation of the minister for internal affairs, security minister and the IGP."

Pointing out various incidents, including the murder of Muslim clerics, the murder of 24 women in Entebbe and Nansana, the legislators said the situation cannot be handled with a 'business as usual' approach.

"Even foreign investors have been killed in hotels in Uganda. That is why we are saying that if those in charge of security are not taking responsibility and stepping down, Parliament should show them the exit," Kiiza said.