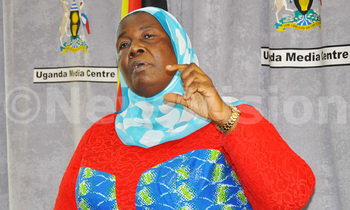 Youth have protested a recommendation by some stakeholders to have them provide guarantors prior to accessing the Youth Livelihood Programme (YLP) funds.

Murmuring amidst a heated debate during Wednesday's concluded review workshop on the YLP, the youth said the requirement of having a guarantor would instead fail the programme given that they (unemployed youth) are perceived to be a high risk group.

Among the recommendations raised at the meeting under the recovery of funds was to require groups to provide guarantors with specific obligations on project success and recovery.

However, Martin Kafanta, the district youth chairperson Kanungu said eligible persons meant to receive these funds are of consenting age and therefore able to make sound financial decisions.

"We have many youth who lost their parents to HIV/AIDS and the war and have been traumatized enough. Why burden them with looking for guarantors who may not even be willing to be part of the process," Kafanta wondered.

Julius Tusiime, secretary labour affairs at the National Youth Council said guarantors would not work because the model already has the aspect of co guarantying where members work together for a common cause and can take on their own liabilities.

"There is a strategy in place clearly spelling out how the funds can be recovered and that is enough. Focus, therefore needs to be put on mainstreaming the messages to enable youth pay back the money," Tusiime argued.

Flavia Nakamate, the project manager at Finance Trust Bank argued that having guarantors was a good move, saying it would hold the youth accessing the funds accountable and responsible. "Do you want to tell me that all of you cannot find people to guarantee you?" Nakamate asked.

However, Francis Barabanawe, the Gulu Municipal Council Town Clerk said introducing guarantors was a radical change that would totally fail the programme. "We have all got loans from these banks but I can assure you that getting a guarantor from the bank at my level is equally difficult."

Explaining how the recommendation came up, James Ebitu, the director social protection at the Ministry of Gender Labour and Social Development said the issue of the guarantors was being brought about on board because of the challenges of recovering of the funds.

"This was a contentious issue but it was to make us understand the obligations of a guarantor. We therefore realised that in order not to stifle the operations of the programme, it was better that we agree to the first principles which is to access people that are most in need and do not have the capacity to access the banks," he said.

Instead of using guarantors, Ebitu said it was resolved that the youth have recommenders who are LC1 chairpersons of various villages to promote youth accessibility to the fund. "But we also agreed to work with youth leaders to ensure that the youth are committed to paying this money back."

Since its inception in 2013, a total of sh97billion has so far been disbursed to 13, 107 youth groups, benefiting 163,130 youth, 45% of whom are female under YLP.

A recovery rate of 67% has been reported and a total of sh16b of the sh24b has so far been recovered from over 6000 groups whereas other groups are still on track of repayment.

While closing the workshop, Gender minister Hajat Janat Mukwaya said there was no doubt that the Youth Livelihood Programme has made significant achievements across the Country.

She commended the youth for taking up the initiative to help reduce the dependency ratio in the country and warned those challenging the programme arguing that the economy cannot grow without purchasing power.

"The youth accessing these funds are people who can never get into a bank because they have no collateral. But I am glad that some have even managed to pay back yet some of us who are employed have failed to pay back loans," Mukwaya noted.

Other recommendations made included increasing financing for the entire programme, strengthening mechanisms for motivation/reward schemes to best performing groups, allowing groups to operate savings bank accounts, among others.