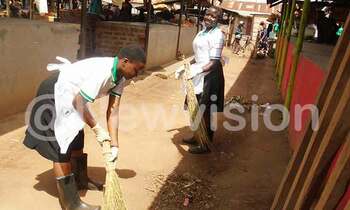 PIC: Students cleaning Pallisa market. (Credit: Lawrence Okwakol)
SANITATION
PALLISA - Authorities in Pallisa town council are being tasked with recruiting more town cleaners.

Dismus Emuria, a motorcycle spares dealer, said Pallisa town council has less than 10 cleaners who cannot sweep the whole town in time.

On Monday students from Alice Amune Memorial School of Nursing and Midwifery, cleaned the market and the community was excited.

John Omusala, the school's registrar, said the students are not only supposed to sensitise and carry out the internship at the health units, but also get involved in real prevention of diseases in the community.

Christine Apolot, a second year student of nursing, said people should not always wait for volunteers, but instead participate in cleaning the town.

"We find it easy to help in disease preventive measures than treating a patient," she said.

However, Isa Batumule, the senior assistant town clerk, challenged residents not to litter garbage but instead use dustbins.

Butumule a list of vacancies was submitted, including adding more cleaners to the district service commission and that the council will recruit soon.

Idi Mayanja, the Pallisa Red Cross chairperson, said the entire town gets cleaned when the community is mobalised. He requested the Pallisa town council to provide brooms and gloves for cleaners.

Twaha Watya, a businessman in Pallisa market, said the gesture the nursing students have shown should be emulated by other institutions so that the community realises the value of schools.