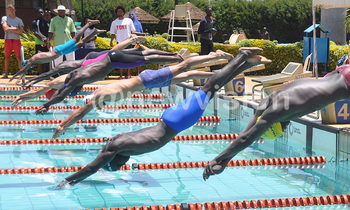 Dolphins Swim Club Darren Ssamula (right) dives in with other competitors for one of the races during the KSF Age Group Swimming Championships at the Moi International Sports Center Kasarani. PHOTOS: Michael Nsubuga
The Dolphins Swim Club Kampala amassed 609 points over three days to win the 2018 Kenya Swimming Federation Age Group Swimming Championships at the Moi International Sports Center Kasarani.

The Dolphins boys' team was the architects of the dominance, amassing 459 points to inspire their team to the top of the three-day championship for the first time.

On day-one, Tendo Kaumi (1:18.61) kicked off the medal hunt by picking gold in the 100m back stroke of the 12-13 years category before his brother Pendo Kaumi picked bronze in the 10-11. The Dolphins then swept the 50m breaststroke event with Shane Birungi, Lionel Agaba and Joshua Kaganda completing a 1, 2, 3.
Dolphins Kirabo Namutebi in action in one of the breaststroke races
Despite losing the 50m breast stroke to Gems' Jono Opande, Darren Ssamula who picked silver later improved to beat former team Sigfred Katumwa to gold by three seconds in the 200IM. He had earlier clocked 20:01.96 to pick silver in the 1500 behind Otters' Ahaan Saini (19:12.04).

But it was Kirabo Namutebi's overall performance that caught the eye after she won six gold and two silvers in her races and attracting a doping test after she came from behind to race to gold in the 200m Individual Medley race, past Mombasa Aquatics' Gakenia Mwige to the astonishment of the Kenyan officials.

Trailing by over a meter into the last lap Namutebi (2:50.20) engaged gear to beat her opponent by 3.24 microseconds.

"I had energy left in the last 50 meters so I gave it my all. There is more competition here and all races are tough to win and we miss a 50m pool in Uganda because most international competitions like the youth and the Olympics are swam in 50m pools so we badly need one," Kirabo stated after the day's race.
The Ugandan swimmers were also outstanding in the relays with the girls' team of Nanette Nsereko, Sophia Nagayi, Swagia Mubiru and Kirabo Namutebi and that of Tendo Kaumi, Daryl Kyabayinze, Paulsen Settumba and Steve Magera and Andriatsitohaina Stallone winning gold in the 800,200m and 400m freestyle relays respectively.

"We fielded only 19 swimmers but everyone on the team contributed by picking points in the different races," the team's coach Muzafar Muwanguzi noted. The championship attracted 311 swimmers from 41 schools and clubs.

Dolphins are sponsored by DStv, Gems International School, Riham and Speke Resort Mu nyonyo.

The team: Zaabu Kyabayinze, Kevin Rugaaju, Steve Magera, Kirabo Namutebi, Andriatsitohaina Stallone, Nanette Nsereko, Sophia Nagayi, Swagia Mubiru, Tendo Kaumi, Daryl Kyabayinze, Paulsen Settumba, Pendo Kaumi, Darren Ssamula, Darly Kayabayinze, Lionel Agaba, Hayyan Kisitu, Joshua Kaganda, Shane Birungi, Shafique Abdullatif.

Combined team scores - top ten
Dolphins Kampala 608pts
Mombasa Aquatics 307
Makini Schools Academy 267
Bandari Swim Club 257
Otters Swim Club 249
Nyali Primary School 229
The Banda Schools 228
Loreto Convent Valley 201
Gems Water Warriors 175
Bubbles Swim Club 129

Dolphins medal count

Gold Silver Bronze
Men: 11 12 16
Women: 8 3 3
Individual medals
Gold Silver Bronze
Kirabo Namutebi 6 2 0
Darren Ssamula 2 2 2
Nanette Nsereko 1 0 2
Pendo Kaumi 1 1 4
Tendo Kaumi 1 2 2
Daryl Kyabayinze 0 1 2
Shane Birugi 1 1 0
Lionel Agaba 0 1 0
Joshua Kaganda 0 0 1
Zaabu Kyabayinze 0 1 1
Hayyan Kisitu 0 0 1
Lionel Agaba 0 0 1
Swagia Mubiru 0 1 1
Sophia Nagayi 0 1 0