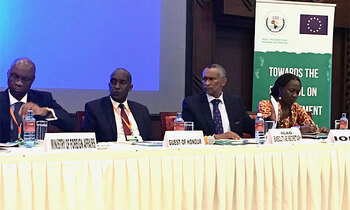 PIC: From left, Anthony Andanja (representative of the Chief Administrative, Ministry of Foreign Affairs), Patrick Ole Ntutu (Chief Administrative Secretary, Kenyan ministry of interior), Mahboub Maalim (Executive Secretary of IGAD) and Maureen Achieng representative of the IOM. (Credit: Courtesy photo)

DIPLOMACY

With the push for open borders quickly gaining support among member states, the Intergovernmental Authority on Development (IGAD) has called on Uganda to position itself in order to reap from the benefits of a VISA-free region.

For the last couple of months, the regional body has been conducting feasibility studies among member states on the possibility of a borderless region.

IGAD is looking at adapting something close to a European Union style arrangement with the aim of ensuring the free movement of people, goods, services and capital within an internal market confluence. However, the body is quick to add that as they push the policy of open borders, regulation and other border legislation will be left to the determination of individual member states. She says the laws will be tailor-made to suit the wishes of the different member states, given their circustances.


According to Lucy Daxbacher (pictured left), a migration expert at IGAD, the treaty which established IGAD has never been more relevant. "The establishment of IGAD was specifically aimed at integration. So, the idea of a borderless region strives to promote this policy given the unique characteristics of each member state" she says.

"The 1986 treaty strives to promote regional integration in the trade, telecoms, infrastructure, socio-economic movement, natural resources, culture and political sectors. However due the challenges the regional body has experienced since its inception, we have been unable to fast-track integration," Daxbacher adds.

Experts say travel within Africa is still problematic, especially due to infrastructural debacles and rigid borders, a challenge that IGAD wants to address through opening up borders. It is also important to note that there direct flights among some member states within the IGAD region are still non-existent.

"Some member states still have enormous bottlenecks when it comes to cross border trade. Some of them do not allow ownership of property, especially land, which makes it practically impossible for citizens of other member states to move in there with the purpose of business and investment," Daxbacher says.

IGAD, which brings together eight countries in the horn of Africa; Uganda, Djibouti, Sudan, South Sudan, Kenya, Ethiopia, Eritrea and Somalia has had to prioritize ending conflict and internal strife in member states, including ongoing wars in South Sudan, Sudan and Somalia. This, according Daxbacher, has prevented it from concentrating on the broader aspects of integration among member states.

How Uganda stands to gain

According to Daxbacher, there are vast opportunities that await Uganda if member states agree to a borderless region. She says given Uganda's agricultural potential and the high demand for food within member states, the country is bound benefit exponentially from food exports. Countries such as Ethiopia, Somalia, South Sudan and Djibouti are heavily reliant on food imports due to climate vagaries and persistent famine in the Horn of Africa and Uganda would readily fill that gap. Daxbacher adds that Uganda will also reap from labour export. She says countries such as Uganda and Kenya who have a highly educated labour force will be able to solve the rampant youth unemployment by exporting skilled labour to members who are still under resourced when it comes to skilled labour and highly technical jobs.

The market for manufactured goods and raw materials will also expand with the creation of a border-free region. The proximity of virgin markets such as South Sudan, Somalia and Ethiopia will be a massive boost for manufacturers in the country. Daxbacher adds that a borderless region will also reduce on the refugee influx to Uganda as opportunities will be widespread among member countries. She says the refugee crisis in the Mediterranean is as a product of people fleeing from catastrophes in the IGAD area, which will be solved by a borderless region.
Status of behind-the-scenes consultation

The IGAD team fast-tracking the free movement of persons consultations have already visited Uganda, South Sudan, Sudan and Somalia. They are yet to visit Djibouti and Ethiopia. According to Daxbacher, the countries they visited have embraced the idea. However, she is quick to add that some member states want the eventual protocol to be tailor-made to suit the circumstances of member countries. She adds that picking a leaf from the experiences of the East African Community, they will be able work a way out for every member state to embrace free borders without feeling that other countries are overrunning their national objectives.

The team visited Kenya last week and the response from the Kenyan team was very positive, according Daxbacher. The three-day workshop was aimed at getting inputs from national stakeholders and experts on benefits and barriers to free movement of persons and deriving national recommendations towards the Provisions of the Protocol. The workshop also developed a roadmap for the negotiation and adoption of the Protocol on Free Movement of Persons in the IGAD Region.

Amb Maalim reminded the experts that Free Movement is inevitable hence important for the IGAD MS to embrace it by cooperating and collaborating on mechanisms with other Member States to have people move freely, safely and legally. He emphasized that free movement of person will bring deeper integration which will contribute to peace and stability in IGAD Region.

The Executive Secretary of IGAD, H.E Amb (Eng) Mahboub Maalim said Free Movement is inevitable hence important for the IGAD to embrace it by co-operating and collaborating on mechanisms with other Member States to have people move freely, safely and legally. He emphasized that free movement of person will bring deeper integration which will contribute to peace and stability in IGAD Region.