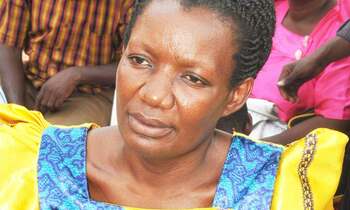 PIC: Mbayo said a decision was made to hold regional stakeholders' meeting for each of the 10 regions
MEETING | HIV
A regional stakeholders' meeting to sensitise people about the Presidential Fast-track Initiative to end HIV/AIDS is to be held in Hoima district on Wednesday.

According to the minister for the presidency, Esther Mbayo, the meeting is expected to bring together stakeholders from the whole of the midwestern region, which covers 15 districts.

These are Hoima, Buliisa, Kiryandongo, Masindi and kakumiro. There is also Kagadi, Kibaale, Kyegegwa, Kyenjojo and Ntoroko, among others.

Mbayo made the revelation during a press conference at the Office of the President in Kampala recently where she announced a new board to manage the operations of the Uganda AIDS Commission.

She noted that after the launch of the Presidential Fast-track initiative to end HIV/AIDS as a public health threat by 2030, they decided to hold regional stakeholders' meeting for each of the 10 regions of the country.

The move is meant to sensitise people at household level about the initiative, in addition to bringing cultural and religious leaders on board to fight HIV/AIDS.

The regions are West Nile, mid-northern, north-east, mid-west and southwest. Others are east, east-central, central 1, central 2 and Kampala.

Mbayo said the meetings provide an opportunity for key stakeholders in the HIV and AIDS response within each region to meet and discuss. The discussion includes what is being done to achieve the objectives of the Presidential Fast-track Initiative and the general HIV response in the region. The Hoima meeting is the second such meeting.