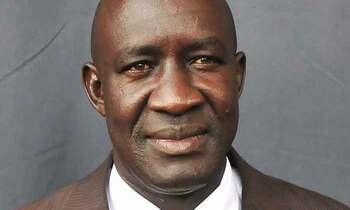 PIC: Ecweru said refugees are free to competitively apply for jobs and work in the country

REFUGEES | TRAINING
The education ministry, through the Directorate of Industrial Training (DIT) is set to certify 620 refugees across the country for competence skills.

The move is meant to promoted self-reliance and also enable refugees contribute to the development of country through the payment of taxes.

The number is part of 1,683 candidates from the refugee communities lined for modular flexible assessment by DIT for the month of February.

They undertook modular training in vocational skills that lasted between three to six months. The refugees were trained in tailoring, motorcycle mechanics, computer applications and repair as well as hair dressing.

Other occupations included plumbing, brick laying, bakery and electronic technicians, all intended to equip them to startup businesses back home.

The beneficiaries are from three training institutions in West Nile sub-region, which include Nyumanzi Vocational Training Centre, Ayillo 11 Vocational Skills Training Centre and Ocea Vocational Skills Training Centre all in Adjumani District.

Micheal Okumu, the deputy director in charge of Assessment and certification at DIT, said the move will empower refugees, including host communities, to become more productive and support their families.

"Leaving refugees jobless would lead to insecurity in the country, as some might resort to crime so as to earn a living," he said. Okumu added that equipping refugees with practical skills would mitigate future unemployment problems.

The refugee training is supported by the Norwegian Refugee Council (NRC) and they will provide startup capital in form of equipment. Money will also be provided where necessary for the certified individuals from the refugee camps and host communities to open up businesses.

Joyce Palamoi, the education specialist at NRC said the trainings were conducted following a market assessment and relevant skills for the available opportunities in the country.

"We consulted the education ministry and DIT on specific practical skills on market." She said explained, adding that the certification will enable refugees upgrade in their studies at any time.

Palamoi explained NRC offers also literacy and numeracy training for both refugees and host communities for easy communication and business management after starting up enterprises.

Refugee reacts

Goreth Ndayisenga, a Burundian refugee living in Lungujja, a Kampala suburb, welcomed the initiative.

Ndayisenga is a graduate French teacher from the Université' du Burundi (University of Burundi). She said that it has been difficult for her to get employed in Uganda.

However, she urged the Ugandan government to also certify professionals so that they get employed in their different areas of profession.

"I have read adverts in Newspapers where international schools are looking for experienced French language teachers, but they turn me down," Ndayisenga said.

She is among several refugees who undertook training in English language speaking under the Makerere University Refugee Law Project.

Recently, the State Minister for Relief and Disaster Preparedness, Musa Ecweru, said refugees are free to competitively apply for jobs and work in the country.

However, he said their academic documents must be equated to Uganda's standards to maintain good professional standards.

"There are several professional refugees serving as teachers, nurses in refugee settlements in the country," Ecweru said.

What the law says

Section 8 sub-section 2(d and e) of the Refugee Act 2006, mandates the office of refugees in the country to protect them and co-ordinate the provision of services for their welfare, identify and initiate projects for refugees and refugee affected areas.

And subsection 2(g) mandates the refugee office to implement a national and regional development plans relating to refugees, in line with current international refugee practices.