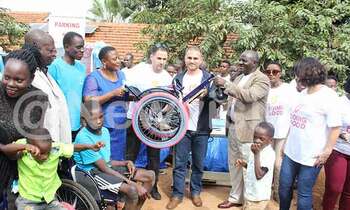 PIC: Children with disabilities received wheelchairs. (Credit: Geoffrey Mutegeki)
CHARITY
KAMPALA - The state minister for works Gen. Katumba Wamala, has challenged Ugandans to put value to life in order to curb cases of child neglect and abandonment.

"If we valued life, we wouldn't be having scenarios of people dumping or neglecting children," Wamala said.

He made the remarks during one of the activities in preparation for Good Deeds Day at Nsambya Babies Home in Kampala on Saturday. The event was organised by SBI International Holdings and Reynolds Construction Company (RCC).

Wamala noted that there is need to sensitise the public not to have children when they are not ready. He emphasised that education was a tool against such evil practices.

Good Deeds Day is an international day of volunteering and is celebrated in April in over 90 countries.

SBI and RCC donated items to three child care organisations; Nsambya Babies Home, Support Disabled Children Ggaba and Naguru Reception Home. The items included wheelchairs and sewing machines and school uniforms.

"It is interesting that this donation is being done during lent, the period we are supposed to be doing good deeds and being closer to God," Wamala said.

He urged Ugandans and other organisations to have a spirit of helping the needy.

SBI renovated poultry houses at Nsambya Babies Home to enable the home produce eggs for feeding the children and income generation. They also donated school uniforms to the children.

"We believe when people think good and do good deeds, the spirit of doing good things will continue to grow," Dotan Hameiri the SBI/RCC administration manager, said.

Sister Sarah Maria Nalwanga director Child Welfare and Adoption Society called for more support to the homes. She said the homes need food, financial support to pay salaries, medical bills, school fees and foster parents to look after the children.

Betty Nankabirwa Muwanga, the founder of Support Disabled Children Ggaba, said the organisation supports children suffering from down syndrome, autism, cerebral palsy and epilepsy. She said such children need love and care.