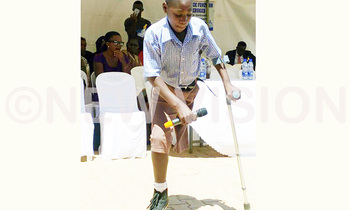 When George Mayambala was eight years old, his parents felt that they had been relieved of stress of dropping and picking him from school on a daily basis.

Mayambala had joined primary three at that time when his father took him to a boarding school in a Kampala suburb. While at school, his parents were called by the school administration that their son had developed a painful knee cap.

When Salongo Mayambala picked his son from school, he took him to a herbalist for treatment. However, the boy's condition deteriorated and he was advised by friends to take him to a clinic at Bugolobi in Kampala.

After treatment Mayambala's condition improved a little and he was taken back to school. After about three weeks, the boy's parents were called again to school because his condition has worsened.

After treatment for about three weeks, Mayambala was diagnosed with cancer and referred to the Uganda Cancer Institute for treatment and management.

Doctors at the cancer institute recommended to have the boy's leg amputated to prevent the cancer from spreading to other parts of the body.

After the amputation he was then put on treatment with drugs after the doctors explained to him and his parents the side-effects of cancer treatment.

"During the first dose of treatment, my son lost a lot of weight and all his hair. He also experienced too much pain, but with time he became better," Mayambals's father narrated. Although they used Oral morphine (a strong pain killer) for every two hours, the pain was unbearable.

During the recent international childhood cancer day, Mayambala was one of the children who narrated their ordeal. He had survived cancer which he described as a deadly disease.

His father said that during the treatment process, he spent a lot of money and he received several calls from the community who wanted him to divert his son from getting medication and resort to witch craft that the boy was bewitched.

Maymbala is among the 7000 children who develop cancer in Uganda every year , however only 50% of them survive.

What is bone cancer?

Cancer is a condition whereby cells in the body begin to grow abnormally (out of control). Cells in nearly any part of the body can become cancerous, and the condition can spread to other parts of the body.

Bone cancer, is the cancer that affects bones. It its common among children and the elderly. "In Uganda, it is one of the five commonest cancers among children," noted Dr Fadhil Geriga, a senior oncologist at the Uganda Cancer Institute.

Geriga says such cancer spreads fast and moves to other parts of the body such as the lungs and it can lead to death.

Signs and symptoms of bone cancer

These include bone pain, swelling near the affected area, broken bone, and fatigue and weight loss.

Geriga explained that bone cancer affects children of all groups and its cause cannot be explained and its cure rates are as low as 20%.

UCI registers an increase in childhood cancers

According to the recent statistic UCI registered 512 new cancer patients compared to 476 in 2016.

Dr Joyce Balagadde, from UCI, explains that the most common cases of cancer among children are leukaemia (blood cancer), that of the kidney, lymphoma, Kaposi's sarcoma and muscle cancers.

"We have a multidisciplinary care of cancer patients and all children who are presented are reviewed by a team of paediatric surgeons, oncologists, pathologists, radiologists and neurosurgeons among specialists. Each child is discussed in details and a management plan is developed. This is the leading strategy to treatment and management of cancers in children,'' Balagadde explained

She said cancers that arise from the lymph nodes commonly known as Hodgkin lymphoma (Neck swelling) in children is highly curable. Citing that last year at least 23 children with this condition were treated and cured and returned to school.

Currently, in Uganda about 7,000 children are estimated to develop cancer every year. UCI treats 4,500 to 6,000 new cancer cases annually.

About 40% of cancers in Uganda are infection-related and if controlled through immunisation and early treatment of infections they can be prevented.