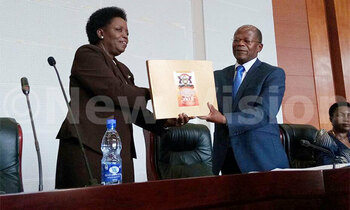 PIC: UNEB chairperson Mary Okwakol (left) hands the 2017 UACE results to state minister John Chrysestom Muyingo (higher education) on Wednesday. (Credit: Wilson Manishimwe)

EDUCATION

KAMPALA - The results of last year's Uganda Advanced Certificate of Education (UACE) exams were released to the public in Kampala on Wednesday, with a "slight decline in performance" registered.

Candidature at this level of education was also found to have declined (2.9%) last year, a trend observed since 2014, according to Uganda National Examinations Board (UNEB) chairperson Mary Okwakol.

Nearly 3,000 more learners registered for the 2016 exams compared to last year. But absenteeism, as has been seen over the last five years, had gradually decreased. Last year, it had gone down by 1.2%.

The results showed that 98.5% of the candidates qualified for a Uganda Advanced Education Certificate.

Meanwhile, the results of 79 candidates from 24 exam centres were withheld, representing 0.07% of the total candidature.

Okwakol also revealed that at 41.4%, female candidature had taken a plunge this time round. UNEB believes this particular decline could be as a result of girls going for vocational options after O'level.

However, despite the drop in the number of female candidates at A'level, those who sat last year beat the boys in all but two subjects (Fine Art and Subsidiary ICT).

That is what happened the previous year (2016) at the same level as well.

Education minister Janet Museveni, who was represented by John Chrysestom Muyingo (minister of state for higher education), applauded the females, saying it "shows that girls at UACE are very determined".

But she maintained that the task for the education sector is to have the candidature of females rise in order to close the gender parity gap.
Humanities still popular

Meanwhile, UNEB revealed that the entry figures for 2017 showed more learners still opting for humanities. Last year, only 20% of the candidates chose science disciplines.

According to Okwakol, the effect of this is that science subjects will not be taken at a higher level, something that will, in turn, hurt the human resource in various institutions.

Literature, Christian Religious Education (CRE), Physics and Biology registered better performance in last year's UACE exams, which were conducted "smoothly" from November 13 until December 5.

Exam malpractice

The issue of exam malpratice once again came to the fore.

Cheating was done through script substitution, impersonation as well as receiving assistance in examination rooms, resulting in results of 79 candidates being withheld.

Okwakol particularly responded to criticism over UNEB's withholding of exam results, saying the board is mandated by law to safeguard the quality of education in the country.

She said the consequences "are dire" and that allowing exam malpractice to thrive will affect the country's future human resource.

"We shall, for example, have doctors whose patients will die on the operating tables as well as judges who shall not dispence justice," Okwakol said.

She also termed as "wrong" the perception that it is the sole responsibility of UNEB to safegauard against exam malpractice, arguing that the task is for every stakeholder.
UNEB executive secretary Dan Nkorach Odongo delivering the release statement

Mrs Museveni said exams security "must be a concern by everyone" and that apportioning blame will not be of any help.

'Go back to basics'

The education minister expressed concern over the popularity and performance of science subjects, arguing that the subdued interest in science disciplines ultimately affects the rate of advancement in science and technology, especially at a time when Uganda is eyeing middle-income status.

Mrs Museveni urged teachers and parents to encourage learners to opt for sciences, while still remaining cautious not to force them to do subjects they may not be interested in.

She also appealed to government and traditional schools to consider students with credits and those with ambitions to study science subjects, instead of limiting admission to only learners with distinctions.

The education minister was also keen to note the "disconnect" in teaching science subjects. According to her, teachers rush through the theory part of the syllabus, before getting to the practicals.

Her appeal was clear: "Go back to the basics and teach sciences as it should be. Teach theory and practicals side by side".
Problem areas

Examiners identified some of the areas candidates struggled in.

Students in traditional government or private schools generally exhibited high quality work. For others, however, inadequate preparation showed.

A large number of learners misunderstood questions and were unable to organise their essays in a co-ordinated manner.

In science subjects, the lack of English proficiency affected candidates' ability to follow instructions. Insufficient practical experience, misspelling of technical terms as well as lack of mathematical skills was also a glaring concern.

Some candidates failed to plot graphs while others could not interpret experimental readings.
At the press conference after the release of the exams
Exam fees: Important!

UNEB executive secretary Dan Nkorach Odongo placed emphasis on exam registration fees.

He underlined the exam registration fees for every level of education as thus:

Primary Leaving Examinations (PLE): sh34,000 (non-UPE)

Uganda Certificate of Education (UCE): sh164,000 (non-USE)

Uganda Advanced Certificate of Education (UACE): sh186,000

Any school that charges above the said fees and calling that UNEB fees is "committing an illegality", Odongo said.

He also advised school heads to study the exam lists and forward any concerns to UNEB within 15 days after the release of the exams.


How to check for your results

Are you curious to know how you performed?

One quick way is to send an SMS using your mobile phone. Type UACE, leave a space, type your CORRECT INDEX NUMBER and then send to 6600. Note that you can only do this on the MTN and Airtel networks. Charges apply too.

You can also use the online platform. Visit: https://ereg.uneb.ac.ug/results and enter your index number to get your results.