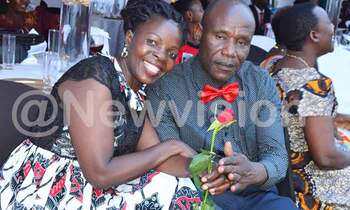 PIC: Maria and Mathias Kivumbi celebrating love. (Credit: Mathias Muzinga)
KAMPALA - The Catholic Church, through Holy Cross Family Ministries and the Marriage Ministry of Kampala Archdiocese on Sunday organised a marriage celebration for couples.

The function, which was meant to help couples celebrate Valentine's Day in a Christian manner, took place at St. Peter's Catholic Church, Nsambya. It attracted over 500 couples, who shared their testimonies as they interacted, dined and danced.

"In the Catholic tradition, St Valentine's Day reminds us about the celebration of our marriage vocation. It is ideal that we disassociate ourselves from any kind of indecent behaviour," Fr Leonard Olobo, the director of Holy Cross Family Ministry, said.
Some os the best-dressed couples
Olobo promised to make an arrangement for business and development experts next year, to teach the spouses economic empowerment.

Fr Emmanuel Ssemmambo, who presided over the mass, urged spouses to live by the marital principles of mutual love, help and companionship, in order to have stable and progressive families.

Sheila and William Tumwesigye were selected as the best-dressed couple. Elizabeth and Francis Kavulu were the second-best.