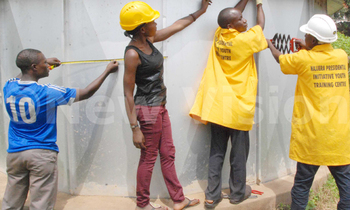 PIC: Youth of Najera Presidential Initiative making finishing on unipot after installing it. This was in Kulambiro Kira Municipality Wakiso district. (Credit: Ramadhan Abbey)

KAMPALA - Over 1,000 youth have gained hands-on skills at Najera presidential initiative youth training centre in Wakiso district. This has been over a period of last two years.

The youth commended President Yoweri Museveni for the initial and continued support extended to the initiative.

The youth centre was established by President Museveni in 2015 with common user facilities in metal fabrication as part of government efforts to support people involved in artisan trade, the president announced in 2015.

The over sh500m donation included a hydraulic bending machine for bending milled steel plates, shear machine for cutting metals and a generator.

The centre technical advisor, Haruna Ssendyabane, said several youth have since acquired skills in metal fabrication and wielding, hair dressing, tailoring and grilled oven and unipots making free-of-charge.

Ssendyabane made the remarks while receiving over 100 students from different vocational and technical institutions around Kampala and Wakiso for internship at the center on Sunday.

According to Ssendyabane , the centre, which is being expanded, receives at least five students every year from each district on recommendation of the resident district commissioners (RDCs).

According to the State House website, the President has expressed satisfaction that the Najera donation had assisted more than 30 associations in metal fabrication.

Other artisan groups that have benefited include about 17 associations at Katwe and over 50 at Kubiri all in Kampala.

The President also pledged to support various groups around Kampala with scholarships to China to empower them the more so that they attain skills in furniture making.

Ssendyabane disclosed that the graduates of the initiative have since established their own fabrication and wielding bureaus, salons and tailoring shops around Najera and beyond.

"We resolved to form a savings and credit co-operative society in order to continue supporting each other through small loans on top of saving. We are over 400 members," he said.

Ssendyabane said plans are underway to transform the centre into an industry to produce iron sheets, iron bars and unipots, among others.
"Our targeted market is government institutions such as police, army and the prisons," he said.

The Government, in 2012, launched the long-term skilling Uganda programme to address the discovered wide skills gaps between what was demanded in the labour market and the skills training providers were offering.