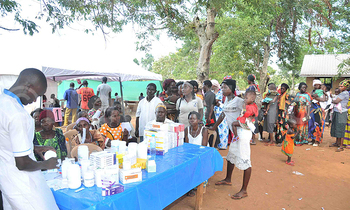 PIC: Residents of Naggoje, Natunda and Kimenyedde in Mukono receive treatment at a health camp organised by St Francis Naggalama Hospital. (Credit: Henry Nsubuga)

HEALTH | CORPORATE SOCIAL RESPONSIBILITY

MUKONO - Over 1,300 residents from Naggojje, Ntunda and Kimenyedde sub-counties in Mukono district have a cause to smile after receiving free treatment from St Francis Naggalama Hospital.

The camp offered antenatal care, vaccination for Human Papillomavirus (HPV), cervical cancer screening and eye treatment among others.

According to Dr Simon Otim, the hospital director, they extend this free service to bring health services closer to the community.

"We have received many old people with a number of illnesses who could not make it to hospital just because they cannot afford transport to public health facilities and treatment," he said.
The mothers received immunisation for their children. (Credit: Henry Nsubuga)

Otim added that the hospital being a Catholic Church-founded, it also offered this free treatment camp in commemoration of the month of February, which is for the sick. The camp was held on Friday.

Abdul Kavuma, a resident of Bulanga village in Naggojje sub-county, said the free treatment was a ray of hope.
Patients line up for free treatment at the camp. (Credit: Henry Nsubuga)

"I pray that the district health department emulates Naggalama Hospital and also organises a health camp for us who live far away from health centres," Kavuma said.

Teopista Tebeesigwa, a resident, decried having one health worker from Naggojje Health Centre III, who visits the village once in a week; on Wednesday, saying diseases do not wait for appointment.

"Sometimes we sell our agricultural produce to get transport to go to either Naggojje Health Centre III or Wabusolo, which is over 7km away, but we find no medicine there. We need such camps," Tebeesigwa said.
The structure under construction to house a health centre. (Credit: Henry Nsubuga)

Stephen Ssonko, the area councillor, said they mobilised the community to build a structure to house a public health unit, but it is not yet complete.

"After completing the structure, we will request for medical personnel from the district who can reside here so that our health issues are handled on a daily basis," he said.