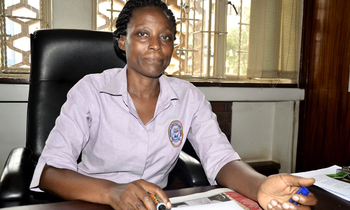 By Beatrice Bananuka

YOUTH EMPOWERMENT

There is a growing and undesirable misconception among some of our youth in Uganda. Many of them, especially those in schools, view themselves as being entitled to receiving all forms of support from their parents and guardians.

They happily call themselves dependants, who are not supposed to contribute towards their well-being and society, even when they get time and opportunity to earn an income. This is ideological fracture and is contrary to how youth in other countries behave.

In Thailand, for instance, they developed the concept of "functional home", where a home is looked at as an income-generating structure not an expenditure centre. This has helped them develop as a nation.

As we traverse schools, fulfilling our mandate of instilling patriotism among the youth, one of our key messages is to encourage students to love work. Uganda's population is predominantly an idle one. This is evidenced by the big number of youth usually found in trading centres across the country, as early as 8.00am, busy but not in business, just on pool tables and other unproductive activities.

In Rwanda such redundant people are severely punished. There is need, therefore, to train the youth in schools to stop being dependants, but contribute to the development of their schools, homes and country at large.

They should not be seen as a demographic burden but a gift to society as it is in India. When an Indian child leaves school, in the evening he goes to the textile industry. At 16 years, they begin exploring the world, wandering into the unknown, to be productive citizens. What happens here?

There is a way some parents are overprotective of their children, grooming them with kid gloves. At university, some parents are still helping their children to cross roads! Turning to academics, I want to believe that many of our youth who fail to get good grades are the lazy ones who do not value hard work and sacrifice.

In many schools, some parents discourage the practice of involving students in co- curricular activities like slashing school compound or farm work. I was sharing with one headteacher in eastern Uganda, who told me that parents resolved in a meeting to increase school fees and buy mowing machines to relieve their delicate children from doing that tiresome work.

I believe it is the more reason, community service has greatly dwindled from our society. Students need to be ideologically tuned to know that coming to school is not only a trip into the academia, but a preparation for a solid foundation. A lot more is needed.

Emphasise values, skills and attitudes as well. Every student ought to acquire various skills and knowledge while at school. Do not underrate patriotism studies, foot drills, gymnastics, elementary survival skills, field craft, marksmanship, vocational skills, creative arts and entrepreneurship. That is when we shall boast of producing all-round citizens ready to transform our country. Our country is endowed with numerous, resources and with a correct mindset; we would not be grappling with poverty.

Unemployment levels would also be low. It is the school administrators noble duty to inculcate into the learners the value of hard work otherwise if labour productivity remains very low, other foreigners like Kenyans and Tanzanians will always take jobs meant for our children here because of competition and mindset issues.

In Britain, 2% of the population are farmers, but they feed those in towns, yet here in Uganda 85% of our people live in villages, but we are always afflicted with famine. Majority of our youth have a negative attitude towards agriculture and some young people have opted to sell off their precious ancestral lands to buy bodabodas!

There is need to synchronise the clock of our ideological campus. In Japan, 90% of the land is rocks, but because of hard work and ideological enlightenment, they import soil and are doing well in agriculture. Go to Israel - very dry, but citizens embraced the spirit of hard work.

They work 20 hours a day and for that matter, Israel has the highest agricultural technology in the whole world. Compare with our good soil and climate.

Paradoxically, many of our people here are held hostage in some churches, praying day and night without work, as if wealth falls from heaven! God blesses the works of our hands.

We need to style up. Why should a school, for instance, spend a lot of money on food items when it has chunks and chunks of unutilised acres of land? Why should a headteacher employ many cleaners in a school when students are on session?

As patriotism secretariat, we have always guided schools to embrace the concept of garden schools versus school gardens. Unless school administrators support such projects, we shall not be showing the way as leaders, to our youth in schools. We shall be misdirecting their general outlook to life.

Instill self-esteem in the youth and guide them on developing the right attitude. The Koreans have a beautiful slogan Do not eat to eat but eat to work. Why not borrow from it? If every parent would instil in her child that value of hard work, perhaps we would go a long way in solving some of our problems and stop thinking that the Government has to put food on each family's table! We need to reflect on the Biblical ant talked about in Proverbs 6:6. It is a lesson to all of us young and old to love work.

The writer is an assistant commissioner in charge of education, information and communication, at the National Secretariat for Patriotism clubs.