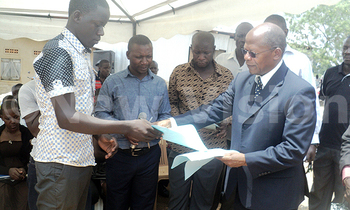 PIC: Muyingo awarding a bursary certificate to one of the students who is to study under the BACEF sponsorship. (Credit: Frederick Kiwanuka)

EDUCATION | FUND

KAMPALA - Ugandans get excited when they get an opportunity to go and study abroad. However, state minister for higher education John C. Muyingo has cautioned Ugandans to be careful when taking up such opportunities, saying the benefactors sometimes have sinister motives.

Muyingo, who is also MP for Bamunanika in Luwero made the remarks over the weekend, advising his constituents that people who desire to study abroad to always carry out wide consultations, before taking up scholarship offers abroad. He noted that many Ugandans, who have been lured with scholarship abroad, have ended up in problems.

"Many of our people who have gone to study abroad have ended up becoming slaves or getting killed abroad," Muyingo said.

The minister was presiding over a bursary award ceremony for 116 Senior Four leavers, whose education is funded by the Bamunanika Children's Education Fund (BACEF), a programme, which funds education for the vulnerable but bright students in the constituency.

The 115 beneficiaries, who scored aggregate 8 to 12 in the 2016 O'level national examinations, were given bursaries to study in various A'level schools of their choice.

Muyingo, who is the founder and patron of BACEF, said the fund last year sponsored 222 O'level students of which 116 passed in first grade. He said those who did not excel will be helped to join vocational institutions.

He said the fund, which has so far benefitted over 1,000 needy students in Bamunanika, was aimed at uplifting education standards in the vast constituency.

Muyingo advised the beneficiaries to maintain a high level of discipline and to avoid irresponsible behavior, which may expose them to HIV/AIDS.

He also urged schools to follow the Government policy and avoiding teaching students outside classroom hours and during weekend s. He reiterated that schools should not teach on weekends because the students need time to rest and to help their parents at home.

The Luwero LC5 secretary for health, Boniface Sentongo, said BACEF had elevated the educational standards and enabled children from poor families in the constituency to interact with children from rich families in Kampala.

A former Luwero LC5 councillor, Umaru Maalo, said education standards had gradually risen following the introduction of the BACEF programme. He said the constituency used to have a handful of graduates, but now it has scores of doctors, lawyers and other professionals.

Maalo urged the beneficiaries of the programme to return home and assist in developing the constituency.