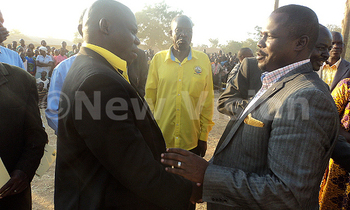 PIC: Richard Todwong chatting with David Ochwa, the secretary for publicity and the former MP for Agule county (Credit: Lawrence Okwakol)

NRM DAY BELATED CELEBRATIONS

PALLISA - Communities should adopt preventive measures so that health facilities are left for the nursing of older persons, Richard Todwong, the national treasurer of NRM, has urged.

According to Todwong, if people embrace disease prevention activities such as each household having pit latrine, rubbish pit, drinking safe water, proper nutrition, sleeping under a treated mosquito net and adhere to maternal health procedures, hospitals will register no cases of illness.

Todwong, while presiding over the Pallisa district NRM belated celebrations at Kibale Primary School on Friday, said the Government is spending trillions of money in the health sector for the treatment of avoidable diseases like malaria, diarrhoea, cholera and typhoid. He says such money could be diverted to boost household income.

"Hospital are supposed to admit older persons with age-related complications and when you see young person in the ward, it should be either he or she had gone to visit older person or was involved in an accident," Todwong said.

He said as ruling caring Government, NRM starts taking care of Ugandans from the time they are conceived by providing the baby with antenatal and postnatal services, then later taken on with his education and empowered, but people do not play their role.

"The Government has left people to play the role of providing food, shelter and scholastic material for their children, but they still complain amidst socioeconomic empowerment", Todwong said.

He said the Government has worked on infrastructural development and the focus now is in household income generation, adding that the MPs should lobby for their areas.

"When a good MP is elected, he makes the best use of his presence in Parliament by lobbying according the national development plan. If MP is not doing any of this, then he has gone to waste time in Kampala," Todwong said.

However, George Oule Omoding, the district NRM chairperson of Pallisa, said the party has not recognised Pallisa in terms of appointments because since the death of Dr Stephen Oscar Malinga, who was a party chairperson and a minister no replacement has been made.

"A district of over 250,000 people only Sadiq Bategana was appointed resident district commissioner and now serves at Bujangabu district", Oule said.

In line with the question of service delivery, John Michael Okurut, the district chairperson, said the Pallisa County MP, Jacob Opolot, was wasting their time and resources with his court cases.

"I am the only legitimate leader in the district and nobody should dream of disorganising us when trying to implement the NRM manifesto. We have over 200 jobs for the youth, but council is non-functional because Opolot and other instigated councillors filed cases to make people think we have failed to serve them", Okurut said.

However, when contacted, Opolot said his case cannot affect service delivery because he was challenging the manner in which Speaker of Parliament Rebecca Kadaga deviated from the rules of procedure when she took a decision to retain Kibale in Pallisa, yet the number of MPs present was only 74.

Opolot said the non-functionality of Pallisa district council is Okurut's weakness, advising him to write to the local government ministry to allow council choose a speaker because Emmanuel Odele represents Opwateta sub-county from the contested Kibale county.

George Oule, the Pallisa district NRM chairperson, blamed the local government ministry for being quiet in the matter before court, yet they know time to achieve the party's manifesto is running out.

Collins Obedi, the Pallisa resident district commissioner, urged leaders in Pallisa to respect each other for the good of service delivery.

"A district where MPs are not in line with their district chairperson, little can be achieved and discredit maybe thrown to others. I request my political leaders forget what happened during election period," Obedi said.