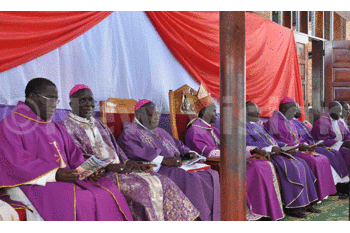 PIC: Left-right: Vicar general of Lugazi Diocese, Msgr Richard Kayondo, Bishops Christopher Kakooza, John Baptist Kaggwa, Matthias Ssekamaanya and Archbishop of Kampala Dr Cyprian Kizito Lwanga after the Holy Mass to mark 139 years since the first missionaries came to Uganda on February 17, 1879, at Kigungu-Entebbe in Wakiso district on Saturday February 17, 2018. (Credit: Juliet Lukwago)

RELIGION

WAKISO - The Catholic Church in Uganda on Saturday celebrated 139 years since first Catholic missionaries came.

The first two missionaries, Simeon Lourdel popularly known as Mapeera and brother Delmas Amans (Amansi), who came to spread Christianity and taught religion to the 22 Uganda Martyrs.

During the celebrations, retired Lugazi Bishop Matthias Ssekamaanya the main celebrant of day was accompanied by the Archbishop of Kampala Archdiocese, Dr Cyprian Kizito Lwanga; Bishop of Lugazi, Christopher Kakooza and Bishop of Masaka Diocese John Baptist Kaggwa.

Others who grace the event were Bishop of Kiyida-Mityana Joseph Anthony Zziwa, Monsignors, Charles Kasibante (Kampala), Matthias Kanyerezi (Kasana-Luwero), who represented Bishop Paul ssemwogerere and Richard Kayondo (Lugazi).
Some of the Priests attended the Holy Mass at Kigungu-Entebbe in Bugonga Parish in Wakiso district to mark 139 years since the first missionaries came to Uganda on February 17, 1879 on Saturday February 17, 2018. (Credit: Juliet Lukwago)
Also in attendance was Fr Richard Nyombi, one of White missionaries' priests in Uganda, priests, religious and pilgrims.

Ssekamaanya was preaching to a congregation that converged at the landing site of Mapeera and Amans, at Kigungu, Entebbe.

He encouraged Christians to shun those bent on dividing the Catholic Church because of their selfish interests, adding that the Church had its norms followed to ascend in the leadership hierarchy.

Ssekamaanya echoed that Pope Francis is equally worried about those wanting to divide the Church over selfish intentions and earthly gains.

"My dear Christians, never be party to those dividing the Church. Work together as community, sub-parish and parish as you follow the guidance from priests and elders," Ssekamaanya said.
Retired Bishop of Lugazi Diocese Matthias Ssekamaanya blesses the Congregation after the Holy Mass at Kigungu on Saturday February 17, 2018. (Credit: Juliet Lukwago)

He paid tribute to Mapeera and Amans who landed at Kigungu, Entebbe in 1879 and hailed them for evangelising in Uganda.

"As we are in the Lenten season, we should re-examine ourselves and renew our lives as we follow God's ways. We Christians should resist temptations, remembering the seed the first missionaries planted in Uganda," Ssekamaanya added.

He said the missionaries work is a gift which should be strengthened through prayer and helping one another. He, therefore, hailed the first missionaries for the courage and incessant faith they exhibited when they came to Uganda.

On the same note, Archbishop Lwanga said in remembering Mapeera and Amans, the Kampala Archdiocese has organised a conversation on February 22 at the Rubaga Cathedral under the theme, The Catholic Church and Buganda Kingdom
Some of the Christians who attended the Holy Mass at Kigungu. (Credit: Juliet Lukwago)

According to Mapeera's biography book "Obulamu Bwa Mapeera" written by Emmanuel Cardinal Nsubuga, the name Mapeera was attained from gathering Kabaka's court on June, 8 1879 in which Kabaka Mutesa said to those present: "Mopeera y'anatusomesa" - "Mompera will teach us".

This sanctioned forever the surname of "Mapeera", which the Baganda, having heard Amans address him in French as "Mon Pere" (father), had already given to Lourdel. Of the first Catholic missionaries in Uganda, Mapeera is by far the one who left the deepest impression.

Pere Simeon Lourdel was born at Dury, France, on December, 20, 1853, to Alberto Kalooli and Elistera. He belonged to a Christian family and from his early childhood, he said he would be a missionary.

Lourdel joined the Minor Seminary of Arras in October, 1861, together with his elder brother Ernest, who was to become a Carthusian monk; but Lourdel was only eight years old, so he was sent to the preparatory section of the seminary dedicated to the Holy Angels. It was there that he made his first communion on May 25, 1865.