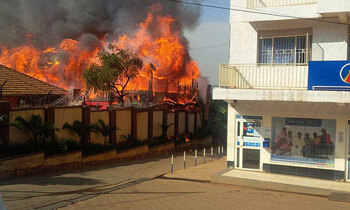 PIC: Property worth millions was destroyed in a fire in Iganga district. (File photo)

CATASTOPHE

IGANGA - Property worth millions of shillings was reduced to ashes when a residential building on Kaliro Road, Nkono zone in Iganga municipality caught fire.

Properties such as mattresses, sofa sets, television sets, fridges and other valuables were reduced bunrt when a building belonging to Hajati Fatuma Mutesi caught fire at around 6:30 pm on Friday.

Residents used water in order to put off the fire, before the fire brigade came in to stop the fire from spreading to other neighbouring buildings.

According to one of the residents, Ayub Wante, the fire started from one of the rooms on the building before spreading to the entire structure.

Wante said majority of the occupants of the building were away by the time the fire started.

The Iganga district Police commander, Nassibu Nditta, said investigations are underway establish the cause of the fire.

Nditta urged owners of the buildings to always switch off electrical appliances such as fridges whenever they are away avoid similar incidents.