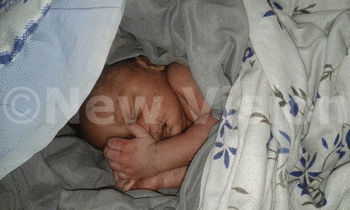 PIC: The baby after bring rescued from the latrine. (Credit: Geofrey Nyamwongera)

CRIME

BUNDIBUGYO - Police is Bundibugyo district is holding a woman, Juliet Biira Muchubha, 26, for throwing her new born baby in a pit latrine.

The incident happened in Kisonko village, Butama parish, Buganikere town council in Bundibugyo at about 6:00am in the morning.

"We received a call in the morning that a baby had been born and thrown in a latrine and we rushed there and found when the residents were devising means of rescuing the baby," said Taban Swaibu, the Bundibugyo district Police commander (DPC).
Biira at the Police station (Credit: Geofrey Nyamwongera)
The DPC said that the investigations reveal that Biira is the prime suspect.

The baby was recovered and rushed to Bundibugyo General Hospital, where it was put in intensive care.

"We have Biira in custody to help us aid our investigations," Swaibu said.

Jemima Nzabake, a resident of Kisonko and a neighbour to Biira, said she heard a baby crying out loud and she searched around.

"I found out that the baby was crying inside the latrine, I made alarm and people came, we reported to the Police and rescued the baby," Nzabake said.

She added: "We realised the baby was for our Biira's because she was the only pregnant woman around and she was about to deliver."