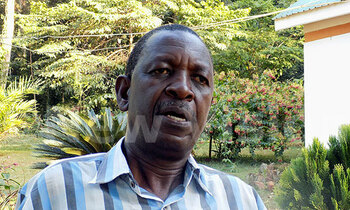 PIC: ISO Director Col. Kaka Bagyenda is one of the respondents
Vision Group has petitioned court to compel Attorney General (AG) and the Director General Internal Security Organisation(ISO) to produce journalist Charles Etukuri who was abducted on Tuesday.

On Thursday, Vision Group legal team filed an application for 'habeas corpus' at the civil division of the High Court in Kampala.
Unknown gunmen, donning what resembled army uniform, picked Etukuri as he accessed his car outside Vision Group offices on First Street, Industrial Area, Kampala.

He was shoved into a waiting white tinted Toyota pick-up truck registration number UAH 083A, before it sped off.

Vision Group is demanding that if he is detained, he should be produced in courts of law dead or alive, and charged rather than hold him in hiding.

The case is registered as Miscellaneous Cause number 029 of 2018 (Charles Etukuri Versus Attorney General and Director General Internal Security Organisation).

The application is premised on the fact that illegal detention infringes Etukuri's right to personal liberty under the 1995 Constitution

He has also been detained beyond 48 hours without trial, which contravenes the Constitution. The detention is also an infringement on press freedom.

With habeas corpus being an urgent matter, a hearing date is expected to be fixed.
The respondents, AG and ISO director Col. Kaka Bagyenda are expected to respond immediately by confirming whether they have Etukuri or clarifying that they do not have him.

Vision Group Editor-in-Chief Barbara Kaija has asked the abductors to treat Etukuri humanely and heed the law.

"We appeal to whoever abducted Etukuri not to manhandle him, but take the proper processes of the law," Kaija says.