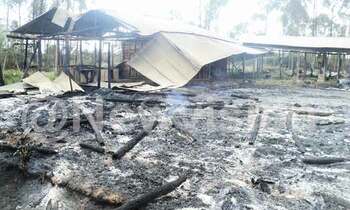 PIC: Crops and machines were destroyed. (Credit: Frederick Kiwanuka)
FIRE
NAKASEKE - A Chinese agricultural production firm, HANHE Uganda farm, which is based in Nakaseke district, is counting losses after a mysterious fire swept across its 300-acre firm, destroying machinery and other properties worth millions.
HANHE-Uganda farm was commissioned in September 2011

According to the directors, HANHE Uganda, which occupies 300 acres of land at Lugogo swamp, is a subsidiary HANHE International that is based in the Hebei province of China.
The fire outbreak occurred at the time the company had temporarily suspended operations to enable the investors reorganise the premises.

The Nakaseke district Police commander, Justus Asiimwe, said the fire broke out at around 4:00pm on Wednesday. He ruled out arson.

Another police officer, only identified as Sgt. Miiro, who guards the properties, said the fire was put out by a combined force of residents and the Police.