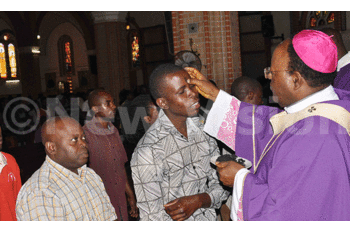 PIC: A man receives a cross of ashes on Ash Wednesday from Archbishop of Kampala Archdiocese Dr Cyprian Kizito Lwanga to mark Ash Wednesday at Rubaga Cathedral on Wednesday February 14, 2018. (Credit: Juliet Lukwago)

RELIGION | ASH WEDNESDAY

KAMPALA - The Archbishop of Kampala Archdiocese, Dr Cyprian Kizito Lwanga, has called on Christians to abandon evil ways and return to God.

The prelate made the call during his homily in a Holy Mass he conducted at Sacred Heart of Mary Cathedral Rubaga on Ash Wednesday.


Lwanga (pictured left) said the Lent season requires Christians to make a lot of sacrifices through fasting and doing well for others, especially the old and the needy. He called on Christians to love one another as they seek God's grace.

"This is time to reflect on our daily lives and come back to the house of God. As we cleanse our bodies, let us not forget the soul and mind. All these three parts are gifts from God and they need healing as we restart life anew during Lent. It is a season of soul-searching and repentance. It is a period when as Christians reflect and take stock of their spiritual life," Lwanga said.
Christians at Lubaga Cathedral on Ash Wednesday

He cautioned against telling lies, saying it has become order of the day for the majority of Ugandans.

He added that as Christians begin the Lent Season, each one should open his/her heart so that they can allow Jesus to work in them.

He quoted Jesus saying: "Those one who want to follow me should carry their cross and follow me."
Archbishop of Kampala Archdiocese Dr Cyprian Kizito Lwanga makes a cross of ashes on a worshipper's forehead of Christians after the Ash Wednesday Mass at Lubaga on February 14, 2018. (Credit: Juliet Lukwago)

Lwanga reminded the faithful of the Pope's message in which the he called on them to forgive, repent and do well for others. The emphasis is on prayer, fasting and alms giving, which are meant to bring Christians closer to Jesus Christ.

He cautioned against adoring other gods and earthly treasures, saying Catholics should reflect on the imposition of the ash as a sign of their humble nature. He said this is a reminder that from ash we came and in it we shall return.
Christians greet Archbishop of Kampala Dr Cyprian Kizito Lwanga after Ash Wednesday Mass.(Credit: Juliet Lukwago)

The Christians were also reminded of the 40 days during which Jesus went into the wilderness to pray to his father. Lwanga said this time should help the faithful prepare for Easter. They should also imitate Jesus Christ and pray as they prepare for the celebration of Jesus Christ's resurrection from the dead.

"For God so loved the world that he gave his only Son," as the evangelist John 3:16. But we must also recognise that we ourselves are expressions of God's love, we are proof that God is love! We were made by Love, for love.