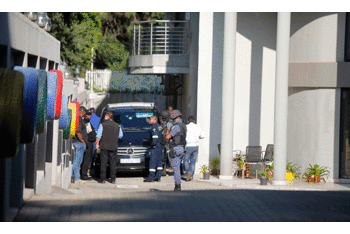 A police van and uniformed and plainclothes police officers are seen inside the compound of the controversial business family Gupta while cars belonging to the Hawks, The Directorate for Priority Crime Investigation, are stationed outside, in Johannesburg, South Africa, on February 14, 2018. (AFP)

SOUTH AFRICA - South African police on Wednesday raided the Johannesburg house of the Gupta family, which is accused of playing a central role in alleged corruption under scandal-tainted President Jacob Zuma.
Zuma has been ordered to resign by the ruling ANC party, and is expected to respond to the order later Wednesday.
"We have now left the compound. It is an operation that is ongoing related to issues of 'state capture'," police spokesman Hangwani Mulaudzi told AFP referring to the alleged corruption of state institutions under Zuma's reign.
Police cars from the elite Hawks investigative unit arrived at the Guptas' lavish and heavily protected complex in the upmarket suburb of Saxonwold in the early morning.
The president, who could be ousted in a parliamentary vote of no-confidence if he clings to office, has "agreed in principle to resign", the secretary-general of the African National Congress (ANC), Ace Magashule, said Tuesday.
The power struggle over Zuma's departure has put him at loggerheads with deputy president Cyril Ramaphosa, his expected successor, who is the new head of the party.

AFP