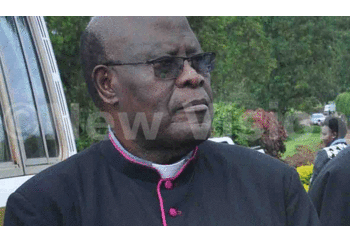 PIC: Msgr John Baptist Kauta is optimistic the Christians will not forsake Ash Wednesday for the sake of Valentine's Day

ASH WEDNESDAY | VALENTINE'S DAY

KAMPALA - Ash Wednesday, celebrated by the Roman Catholic Church world over, has fallen on February 14, a date to commemorate St Valentine's Day, whose acclaim was started in 1945.

The secretary general of the Uganda Episcopal Conference, Msgr Dr John Baptist Kauta, said despite the rare coincidence, Ash Wednesday takes the upper hand and Valentine's Day should not impede Catholics from observing the obligations of the Lenten season.

"Ugandans should know that the Lenten season is beginning today. We wish all Ugandans a fruitful Lenten season, but not forgetting that today it is Ash Wednesday, which they must observe as the first day of the liturgical period of Lent; A time of prayer and fasting in the life of a Christian," Kauta said.

He revealed that Ash Wednesday is the day that marks the start of the Lent period in the Christian. During Lent, Catholics abstain from meat on Ash Wednesday and on every Friday. Christians are encouraged to fast anything of their choice.

Kauta noted that Ash Wednesday marks the start of the 40-day period of fasting and reflection, confession and penance, which Christians observe, remembering the time Jesus spent in the wilderness fasting.

"Ash Wednesday marks the beginning of the season that leads to Easter. We begin this journey by receiving ashes. Lent season requires Christians to make a lot of sacrifices through fasting and doing good to others, especially for old and other needy people. This season helps us to love one another as we seek God's grace." Kauta said.

According to the Catholic Encyclopedia, Lent is, above all else, to prepare men for the celebration of the death and resurrection of Christ, the better the preparation, the more effective the celebration will be.

The purpose of Lent is to provide that purification by weaning men from sin and selfishness through self-denial and prayer by creating in them the desire to do God's will and to make His kingdom come by making it come first of all in their hearts.


However, St Valentine's Day, is an annual holiday celebrated on February 14. Originating as a Western Christian feast day honouring one or more early saints named Valentinus.