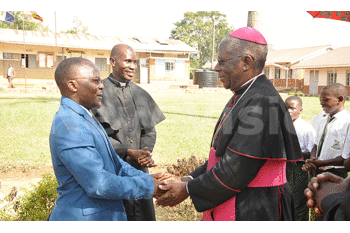 PIC: Cyrus Ssebulime, the headmaster of St Mugagga SS Kiganda in Mubende welcomes the bishop of Kiyinda Mityana diocese Rt Rev Dr Joseph Antony Zziwa at his school where the bishop had gone to bless and officially open the girls domitory on Monday. (Credit: Luke Kagiri)

VALENTINE'S DAY

MITYANA - As lovers mark Valentine's Day, Christians have been urged to commemorate the day with prayers, as it is a day of a saint.

Bishop Joseph Antony Zziwa of Kiyinda, Mityana Diocese, said it is a pity the way people mark Valentine's Day, saying the faithful should regard it as a saint's feast day.

Zziwa said this year's Valentine's Day has come on Ash Wednesday and, so, the faithful should not forget to hold prayers.

"I remind you that it is Ash Wednesday and St Valentine's Day, so we do not expect celebrations like those we always hear going on," Zziwa said.

He was preaching during the celebration of mass at St Mugagga S S Kiganda in Mubende district, where he blessed and commissioned a girls' dormitory.

In his sermon, the bishop also called on Christians to develop a culture of appreciating what they have and thank God or whoever has enabled them to have it.

Citing Luganda proverbs, Zziwa said when one does not appreciate and they continue asking for more, they cannot make a good use of what they have.

Zziwa commended those who donated money towards the construction of the dormitory and urged the parents and all Ugandans to always unite and fundraise for any issue.

George William Nyombi Thembo, who was a special guest at the function, called on parents to stop expecting all the support from the Government, but to always support the schools where their children go.

"When one hears that it is a government school, he or she thinks that the Government is going to provide everything, including meals. We need to work closely with the school management and ensure that we support these schools," Nyombi said.

Nyombi, who was also the former MP for this constituency (Kassanda South), said the performance of the students depends on the role played by the teachers and parents.

"The greatest role should be played by the parent. If a member of staff is transferred from a poorly performing school to a well- performing school, the students will pass,but if a member of staff is transferred from the best school to poor one, the students will fail. This is because the parents do not play their role in these poorly performing schools," he said.