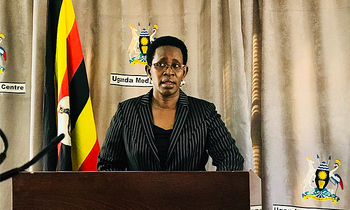 PIC: Dr Diana Atwine, the permanent secretary Ministry of Health during a press briefing as the Uganda Media Centre in Kampala on Monday. (Courtesy photo)

KAMPALA - The Ministry of Helath has embarked on a drive to dispose of expired and unwanted medicines from 6,619 health facilities ( Government and Private Not for Profit Owned) around the country.
The revelation was made by the mininstry's permanent secretary Dr Diana Atwine during a press briefing at the Uganda Media Centre on Monday.

According to Atwine, this process will create more space for adequate storage of medicines and other health supplies and prevent risk of public health hazards, pilferage and relabeling as a result of long storage of items.

According to the health ministry, currently, there is an estimated 1,200-1,500 tonnes of expired medicines around the country.
To achieve results, the a collaborative approach has been put in place towards successful implementation and execution of this exercise; National Drug Authority has set aside resources to pay contracted provider to incinerate expired medicines and other supplies.

According to Atwine National Medical Stores (NMS) logistics system will be employed for collection of obsolete supplies, which will later and will be incinerated at National Environmental Management Authority's approved disposal sites.

"Collected expired supplies will be temporarily deposited at NMS stores in Entebbe from where they will taken for safe disposal," Atwine said.

She charged district health officers (DHOs) and those in charge of various health facilities with ensuring success of the one-off exercise.

"This is a one-off exercise and all DHOs and in-charge officers must ensure items are at designated collection points to be picked during NMS delivery cycle for this financial year ending June 2018."

"I urge all DHOs to adhere to the given timelines to ensure that all obsolete items are delivered to designated points to create space for new supplies," Atwine said.

NMS' Moses Kamabare assured the public that the body had enough space for inceneration and were more than ready for the exercise.

"Once brought to our stores, expired drugs will not be stored for more than three days, before being taken to Nakasongola for safe disposal," Kambare said.

The last time such a massive exercise was carried out was 2012.