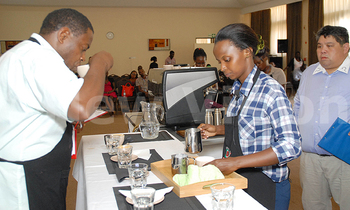 PIC: A judge (left) tasting a Barista's cup during-the competition. (Credit: Denis Nsubuga)

BARISTA CONTEST

KAMPALA - Simon Ochen Eidodo, a barista at Chariots Coffee, is the winner of the 11th annual Uganda National Baristas Championships (UNBC). He beat five baristas in a highly-contested final showcase on Friday at Protea Hotel, Kampala.

A barista is a professional coffee brewer, a person who makes coffee drinks. The two-day competitive showcase started with 15 semifinalists who competed to make the best espressos, cappuccinos and signature drinks before a team of judges. The venue was filled with the aroma and taste of a great cup of Ugandan coffee.

Started in 2008, the competition is organised by Uganda Coffee Development Authority (UCDA). It attracts contestants from coffee from coffee shops, hotels and coffee clubs around the country.
Simon Eidodo recieving the accolade for winner of the 11th National Barista Championship

This year, the competition attracted 38 participants in preliminaries. Fifteen were selected for the semifinals; five were from coffee clubs in the Inter-University Barista Championships for university students.

According to Clare Rwakatogoro, the promotions and training officer at UCDA, the UNBC is used as a tool to promote coffee consumption amongst the youth. The competition starts with a training at UCDA, where participants are trained professional brewing skills.
Guests congratulating the winners with a standing ovation

"It has helped some of the participants get and create jobs. It has also promoted coffee among youth," Rwakatagoro said.

The competition was concurrently run with the 6th Uganda National Cup Tasters' Championship which was won Tony Bocana. The finalists walked home with certificates and plaques.

Eidodo, will represent Uganda at the African Barista Challenge at the 16th African Fine Coffee Conference and Exhibition to be held next week from February 14 to 16 in Kampala. He will also represent Uganda at the World Barista Championships, which attracts over 60 countries in June in Amsterdam, Netherlands.