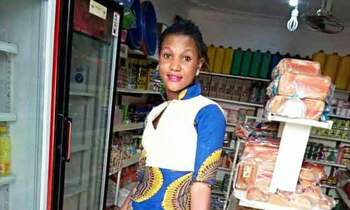 PIC: Wakisa was attacked on Friday morning
MURDER | CRIME
KAGADI - The Police in Kagadi have arrested 20 suspects in connection with the murder of a 24-year-old student of Gulu University.

Rebecca Wakisa was in her third year at Gulu University branch in Hoima district.

Julius Jingo, the officer in charge of Kagadi Police station, said unidentified assailants stabbed Wakisa and took off with her money.

"Unidentified thugs attacked as she returned from her shop on Friday morning. We tried to save her life, but she died shortly on arrival at St. Ambroze Charity Health Centre IV,'' Jingo said.

He said at least 20 suspects whose identities could not be disclosed for fear of jeopardising investigations are in custody at Kagadi Police station as investigations continue.

He, however, said the Police have intensified night patrols to minimise the re-occurrence of such incidents.

Moses Muramuzi, the criminal investigations department officer at Kagadi Police station, said three prime suspects were arrested from Mityana district and transferred to Kagadi Police station.

"We connected with various district security agencies in Mubende and Mityana and managed to track three prime suspects. We are still using our intelligence officers to get more suspects,'' he said.

Muramuzi advised residents to desist from moving late in the night.

Wakisa's body was taken to Kagadi Hospital for a postmortem examination and later transported to her ancestral home in Karongo village, Hoima Municipality.