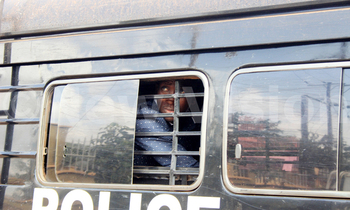 PIC: Former Buyende DPC Muhamadi Kirumira peeping through the window of a Police vehicle that brought him to appear before the Police Tribunal on Thursday at Naguru Police headquarters. (Credit: Meddie Musisi)

JUSTICE

KAMPALA - The police disciplinary court has withdrawn two cases against outspoken former Buyende district Police Commissioner Mohammad Kirumira.

The charges were withdrawn on grounds that a key witness, Pius Kato, died, while the witnesses have conflict of interest can not testify against the officer. Prosecution payed that the case could not proceed.

However, six charges, most of which are of corrupt practices, were sustained by the Police Disciplinary Court chaired by Senior Commissioner of Police Dennis Odwong Odongpiny.

It is alleged that Kirumira, being the officer in charge of Nansana Police Station on February 22, 2012 removed Kato from the cells and tortured him by undressing and beating him with a stick and wire and cutting his right-hand thumb with a knife.

It is also alleged that Kirumira on the same date removed Paul Ochaya from the cell and tortured him.

Kirumira was arrested last week following utterances of his resignation from the Police job without following the procedure and was remanded to Police cells.

He was brought to the Police court on Thursday, but maintains he will not be intimidated and will continue to speak out on injustices and criminals in the Police Force.

Kirumira asked to be granted bail on grounds that his expectant wife is about to deliver and that his school-going children were traumatised by his arrest.

However, Katherine Kusemererwa, also a Senior Superintendent of Police objected to the application, contending that he (Kirumira) could interfere with the ongoing investigations and influence witnesses.

The bail application was referred to Tuesday next week.