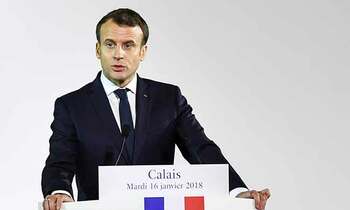 PIC: Emmanuel Macron, the President of France. (Credit: AFP)
ECONOMY | DEBT
FRANCE - France's public finance watchdog urged President Emmanuel Macron on Wednesday to go further in reducing the country's budget deficit and debt, which are among the highest in Europe.

Paris is expected to report a public deficit equivalent to 2.9% of GDP in 2017, below the European Union limit of 3.0% for the first time in 10 years.

But the Cour des Comptes, the watchdog, said the new centrist government needed to make use of improving economic conditions to tackle chronic government overspending.

It called for "reinforced action" that would lead the country to "rediscover some margin for manouevre with its budgets and a sustainable level for public debt."

The comments echo remarks from the European Commission, which polices fiscal policy in the 28-member bloc, and the International Monetary Fund which remain concerned by French debt.

The deficit is forecast by the economy ministry to dip to 2.8% of GDP in 2018, while the public debt is estimated at 2.2 trillion euros, the equivalent of 96.8% of GDP.

Macron made tackling the deficit a key campaign pledge last year, but economists highlighted how the government's budget for 2018 did little to address the underlying problem.

The government is seen as banking on higher economic growth, which will increase tax receipts, rather than politically difficult measures to reduce public spending.

"We are dancing on a volcano that is rumbling ever louder," Prime Minister Edouard Philippe told lawmakers in July, referring to the debt problem.
AFP