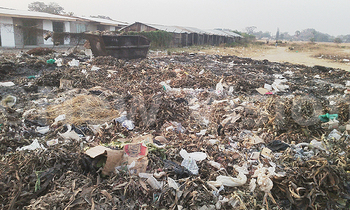 PIC: Heaps of garbage at western gate of Opiara temporary marketin Soroti municipality (Alexander Okori)

SOROTI - Vendors have blasted Soroti municipal authorities for failing to end perennial rubbish collection problems at the market, saying this might trigger another cholera outbreak.

The vendors, who were moved from Soroti main market to Oparia to pave way for the construction of a modern market, say since they were relocated, dust and garbage collection have remained challenges, coupled with poor toilet facilities.

Christine Apolot, one of the vendors told New Vision that since they relocated to the new site in November last year, municipal authorities have never emptied the pit outside the Southern gate of the market.

Narrating their ordeal, Apolot said the air around the market and the town council is polluted because of the stench from the garbage.

"Our health is in danger, the place smells. We fear we might lose customers as well, Apolot said.

Richard Wabayo, a food vendor, revealed that despite the fact that the municipal council collects a garbage levy from vendors daily, the market is filthy.

He threatened that they were going to stop paying the levy because the municipal council had neglected the sanitation in the market.

However, Moses Ecuru, the deputy mayor of Soroti municipal council, blamed the poor service delivery in the market on insufficient facilities.

Ecuru explained that they rely on a single tractor to collect garbage.

He said the tractor broke down a month ago, but had never been repaired because of lack of funds.

Ecuru called for calm among the vendors, saying their concerns would be addressed soon.