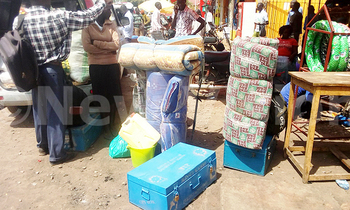 PIC: School children stranded with luggage in Soroti Teso coach bus park. (Emmanuel Alomu)

KAMPALA, SOROTI - As schools officially opened on Monday, a number of passengers, especially learners heading to different destinations were stranded due to lack of transport.

While for some it was an issue of few cars, for others, it was the inflated fares by the brokers and vehicle operators.

In Kampala, most taxi and bodaboda operators made a kill as they charged almost double the standard fare for a trip under the pretext of traffic jam.

In Soroti, learners and their parents heading to Jinja and Kampala schools were seen at stages and bus parks waiting for ages.

Most students who arrived at different stages and bus parks in Soroti town as early as 7:00am were still held up to around midday.
Some learners had to wait for over five hours for transport means

A section of the learners and parents said almost all the busses had left for Kampala by 12:30pm, with promises of the next bus at 3:00pm.

They said most of the people were struggling to enter to any bus heading to Kampala, while others going to Jinja resorted to using taxis up to Mbale, then connect to their destination.

On the other hand, it was the joy of vehicle owners and operators as they could easily make many trips or hike the fares.

Richard Okiru, one of the drivers plying the Soroti-Amuria route, said it was their day to make money.

"A vehicle hardly takes 30 minutes to get full," Okiru said.