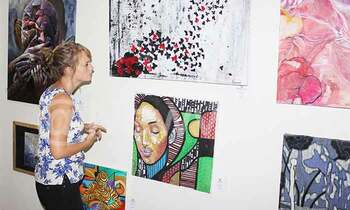 PIC: An art lover admiring some of the art pieces during the exhibition. (Credit: Denis Nsubuga)
EXHIBITION
KAMPALA- The East African Art Biennale has come to Uganda for the first time in 15 years. The visual art exhibition showcases a collection of art works from artists around East Africa.
A common term in the art world, a biennale is an event that takes place every two years.

Tanzania has played host to the event all the years since inception, with the organisers collecting works from artists around the region and showcasing them at an exhibition in Arusha.

This time, in the eighth edition, the curators decided to move the exhibition across borders in East Africa. The first of its kind, the showcase is moving to the capitals of five countries; Tanzania, Kenya, Uganda, Rwanda and Burundi. The grand opening happened in Dar-es Salam, Tanzania on November 2, last year before it moved to Arusha.

It happened in Nairobi, Kenya, and it is now showing in Kampala at AKA Gallery, Bukoto Street in Kamwokya. Art works include mostly paintings and a few digital print photographs, sculptures and collage pieces.

The exhibition has 70 works, four from Uganda visual arts. However, it has also works from beyond East Africa, including works from Europe and the rest of Africa.

Dr. Kiaghu Kilonzo, the programme executive director said this is meant to expose and give artists a challenge and learn from other artists. He said the exhibition is aimed at the promoting of grassroots artists in East Africa, and drive the integration agenda.

The exhibition has no theme. It is freestyle. Participating artists submit new works of their choice from their archives.

The event runs until February 9, before it goes to Kigali, Rwanda. It will end in Bujumbura, Burundi on February 28.