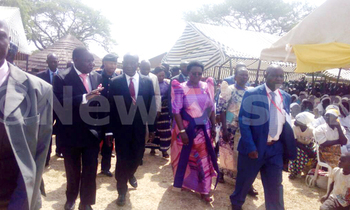 PIC: Vice-President Edward Ssekandi arriving for the celebration of centenary of Faith in Angal Parish on Sunday.

RELIGION

NEBBI - The Catholic fraternity in Nebbi district are in excitement celebrating the marking of 100 years of faith at Angal Parish, the oldest in the district.

The ceremony, which was presided over Vice-President Edward Kiwanuka Ssekandi on behalf of the President, saw the host faithful arrive as early as 7:00am to celebrate the much-awaited event.
Angal parish, which is the oldest in Nebbi, on Sunday marks 100 years of existance. The parish was started in 1917 by the Verona Fathers, before giving birth to a number of parishes in the Diocese according to the Rev. Sanctus Lino Wanok, the Bishop of Nebbi Catholic Diocese.
Some of the faithful marching during the event
Faithful march holding placards showing the parishes they belong to
Some of the clergy in a procession at the ceremony
Nuns during the Angol's centenary celebrations in Nebbi district


A section of the clergy at the event


A choir at the event