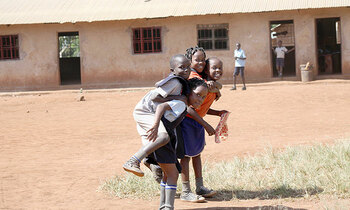 (Photo credit: Samuel Sanya)

EDUCATION

The well-paved roads that lead to Hoima district's oil fields turn to dusty murrum paths as one gets closer to the Kyangwali refugee settlement camp in western Uganda. When we finally get to the camp, Tamari Mutesi, a 27-year-old Congolese refugee, meets us. Wearing a turquoise 'kitengi' dress, with braided hair, she embraces and welcomes us with a generously wide smile to the anti-violence women's group.

Mutesi and several of her peers learned how to mend and sew new 'bitengi' - African print clothes - from an experienced tailor a few years after they had fled Congo in 1997.

Since 2008, and Fellow members of the anti-violence group have trained refugee girls that are out of school, aged 15 and above, to gain economic independence and avoid getting into early marriage.

"The people we train are now self-employed. I feel so happy to see fellow girls getting skills to stand for themselves, to feed their families, and help their parents. We made sh600,000 from November 2016 to February 2017. This made it possible to buy new tailoring machines," Mutesi says.

The group has 25 active members, who work from a small, poorly-lit building. Mutesi says 20 or so former members now operate in their own shops, out of which they earn a living and encourage young refugee girls to stay in school.
The settlement camp has over 40,000 residents. One of the beneficiaries of the training, 22-year-old Adelphine Ingabire (pictured above) says she earns about sh10,000 a day, which enables her to cater for her basic needs.

The anti-violence group in the Kyangwali camp is part of a larger group called COBURWAS (Congo, Burundi, Uganda, Rwanda and South Sudan) which was started in 2005 by four school-going refugee boys, mostly from Congo, to improve livelihoods in the camp through education.

Later on, Joseph Munyambanza, a Congolese refugee in his late 20s and leader of the COBURWAS group, registered as a non-governmental Organization COBURWAS International Youth Organization to Transform Africa (CIYOTA) to help refugees, especially girls, complete primary school and enter secondary school.

Claude Dusabe, the CIYOTA human resources manager, says the group is united by the fact that the only way to improve the prospects of the refugee community in Kyangwali is through education.

"In 2005, we decided to come together as youth to create our own solutions because we could not wait for government and other stakeholders to provide us with quality education," Dusabe says.

CIYOTA set up a primary school and created partnerships with secondary schools in Hoima, such as Kitara and Bwija, to admit their pupils. They also set up satellite hostels in Hoima that house about 50 girls, enabling them to study.

Keeping girls in school

Like most African societies, Munyambanza says the community in Kyangwali refugee settlement has a mentality that girls are supposed to do domestic work and get married, especially at ages 16 and 18.

Through their organisation, they talk to parents of girls who are at risk of dropping out of school, either directly or through the religious leadership, about the importance of putting the girls through school.

"We get them activities that will keep them busy and ensure they do not get pregnant early. We have even jailed some men that prey on schoolgoing girls," Munyambanza says.

He points out that senior women teachers encourage girls to stay in school by counseling them, giving them sanitary material and extra uniforms when they go into their menstrual periods.
Pupils at COBURWAS primary school in Kyangwali. (Credit: Samuel Sanya)

Data from the United Nations Educational, Scientific and Cultural Organisation (UNESCO) shows that many African girls only receive five years of schooling. It also points out that nine million girls between the ages of six and 11 will never go to school at all in sub-Saharan Africa.

"I am passionate about girl's education. However, we do not have enough funding and infrastructure to keep all the refugee girls in school. So we target the most vulnerable, like those whose fathers are alcoholics," Munyambanza says.

Sixteen-year-old Sheila Arach, a refugee from South Sudan who completed Primary Seven in 2017, says she plans to stay in school and pursue secondary education.

She points out that COBURWAS provides a safe environment for learning, as well as support for dealing with unwanted sexual advances. "It has good teachers. We study at night and they talk to us about how to avoid men."

Sarah Tuyiramye, a refugee from Rwanda, says most of her friends never completed primary school. "They dropped out, and many have as many as three children. I think if I had not been given this chance of going to school, I would be married by now," she says.

John Bosco Okoboi, the headteacher of COBURWAS primary school in Kyangwali, said the rate of teenage girls getting pregnant was very high, at almost 90%, before the primary school embarked on a community-wide programme to encourage parents to keep their girls in school.

"The best thing is not to condemn them (the parents of girls), but to discuss with them about the consequences of early marriages and pregnancies," he says.

While the young ones toil away at COBURWAS primary school, their illiterate parents have also formed a school for adult education that teaches English and Kiswahili. Lessons are conducted in their native Kinyabwisha, an Eastern Congolese dialect that has its roots in Kinyarwanda.

The group of 42 parents have also formed a savings and credit group, where they can borrow between sh200,000 and sh400,000 without collateral security at an interest rate of 2% every year to enhance their livelihoods and support the education of their daughters.
The COBURWAS schoolgirls are active and some of them are part of the school band. (Credit: Samuel Sanya)

Scholarships for university education

Lady luck smiled on refugees in Kyangwali when Munyambanza was admitted to the prestigious African Leadership Academy in South Africa. Later, Munyambanza and three others applied for and secured MasterCard Foundation scholarships to get tertiary education in the US and in Kenya.

Through the Mastercard Foundation scholarship, Munyambanza studied Biochemistry at Westminster College in the US between 2012 and 2015. Since 2013, the foundation has offered scholarships to more than 30 male and female refugees living at Kyangwali to study at universities around the world.

Dusabe, one of Muyambanza's contemporaries, was admitted to the United States International University Africa (USIU) in Nairobi, Kenya where he studied International Relations with a concentration in Development Studies and a minor in Psychology.

Favourite Regina, another beneficiary of a scholarship to USIU where she studied international relations, has since returned to Kyangwali to oversee projects and motivate its young girls.

"I talk to them about how everything is possible, and not to look at men as a solution. I believe that refugees are able to change the country where they are searching for refuge," she says.

Regina notes there are few other girls that have gone to university and that her principle goal is to motivate them to study and complete university.

Sharmi Surianarain, Vice President of Lifelong Engagement at the African Leadership Academy, says after they graduate, the girls give more to the community, so investing in girl education is fundamental.

"It is estimated that by 2025, there will be over 600 million young Africans under the age of 30. The philosophy of the Mastercard Foundation programme is that the young people, especially in Africa, should get the opportunity to learn and prosper and bring development to the continent," Daniel Mundeva, an associate programme manager of education and learning at Mastercard Foundation, points out.