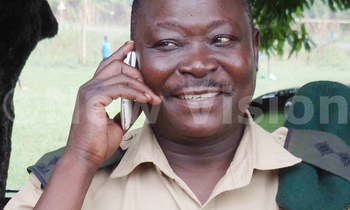 PIC: Godfrey Lubangakene, the Warden community conservation Karuma Wildlife Reserve after speaking to New Vision

OYAM - Twelve-year-old Moses Obangakene is nursing wounds in hospital after being attacked by stray elephant on Friday morning.

Obangakene sustained injuries after an elephant carried him on its trunk and hurled him down in Nora village, Kamdini sub-county in Oyam district, before he was rescued by a ranger from Karuma Wildlife Reserve in Murchison falls.

Obangakene was admitted to the St Pope John's Hospital Aber, where he is reportedly nursing a broken collar bone.

Officials said the elephant appeared to have escaped from a reserve across the border in Nora trading centre and had been destroying crops in area.

However, Nora LC1 chairperson, Moses Ricky Oyepa-Ogwec, said the same elephant had been hit by a lorry Fuso registration number UAZ 302B two days before the incident.

According to Oyepa -Ogwec, a group of five UWA staff had been battling to gain control over the elephant, which had become a menace to society.

Straying elephants from Karuma Wildlife Reserve in Murchison falls conservation area are becoming rampant and destroyed people's gardens. The incident occurred 2,500 metres from the park boundary.

Geoffrey Lubangakene, the warden at the conservation area confirmed the incident, saying it was the same animal that had been knocked by a lorry.