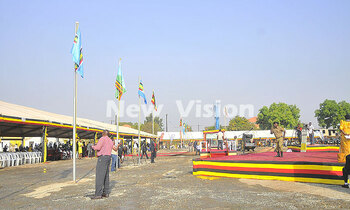 PIC: It is a warm day already in Arua. (Credit: Bosco King)

LIBERATION DAY

ARUA - Ugandans congregate at Boma grounds in Arua town today to celebrate 32 years since the National Resistance Army (NRA), led by Yoweri Museveni, now President, came to power.

A total of 200 Ugandans will receive medals of different categories in recognition of the roles they played in the "liberation" and transformation of the country.

Notable among the people who will be decorated with medals is the Arua Municipality MP, Ibrahim Abiriga, Bishop Sabino Ochan Odoki, retired Bishop Dr Joel Samson Obetia, Brig. Dick Olum and other senior army officers.

The day will be marked under the theme: "Uganda's liberation significant contribution to our present and future development".

A significant number of the people lined up to receive the medals will come from various parts in West Nile.

The day is marked in a different district each year. NRM said Arua was also chosen to host the celebration this year because of the support the people of West Nile rendered to the liberation struggle.

Museveni will be the chief guest.
The Minister for Presidency, Esther Mbayo, said 32 years appear to be a long time, but the memories of the liberation movement are still fresh in the minds of Ugandans.

The NRA launched a guerrilla war in 1981 following the disputed elections in the previous year. It ended on January 26, 1986, with the NRA taking power from the Uganda National Liberation Army.

"On this occasion, all Ugandans, irrespective of religious, political, ethnic or racial divide, will come together to reflect on our 32 years as a nation," the minister told a press conference at Uganda Media Centre, Kampala, on Wednesday.

Mbayo said the NRA liberation movement is a story of bravery, unwavering search for a true and revolutionary leadership.
Guests have already taken their seats at Boma grounds