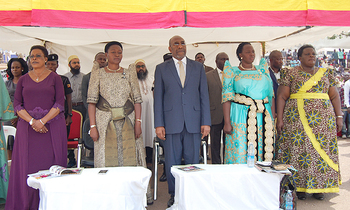 PIC: Left-right minister for Kampala Betty Kamya,Hon Rosemary SSeninde,Prime Minister Hon. Ruhakana Rugunda,deputy RDC kasangati Hajira Namagogwe and Rose Kirabira RDC Wakiso district during the second graduation ceremony of Seninde Foundation.(Sylvia Katushabe)

EDUCATION | VOCATIONAL STUDIES

WAKISO - The Government has been advised to re-direct youth funds under the Youth Livelihood Programme (YLP) to vocational school graduates.

The state minister for primary education, Rosemary Seninde, made the call on Friday during the second graduation of the women and youth in Wakiso district at Namboole stadium.

The ceremony was organised by the Seninde Foundation under theme Skilling Wakiso district.

During the ceremony, 3,489 students were awarded certificates in bakery and catering, hair dressing, fashion, design and tailoring as well as in charcoal and briquettes making.

"The youth borrow government's money under YLP and do not refund it, yet there is nothing done on ground," Seninde observed.

She added that almost 80% of the vocational students are job-creators and not job-seekers.

Seninde said she was motivated to start the said project due to President Yoweri Kaguta Museveni's initiative to skill the girl child so that they can be able to create their own jobs.

The initiative that was recently launched by the President seeks to equip girls between the age of 17 and24 years with hands-on skills.
Graduates celebrate their achievement

Seninde stressed that the initiative is non-partisan, saying that the Opposition leaders have discouraged some people from engaging in vocational studies claiming it is a ploy to woo them into joining NRM. This, she says hinders development.

"It does not matter which political party one belongs to. At the end of the day they will still thank the President for the vision," Seninde said.

The deputy mayor of Kira municipality council, Godfrey Nsubuga, said the Government should devise ways of channeling the youth fund to vocational programmes.

Gracing the ceremony, Prime Minister Dr Ruhakana Rugunda lauded Seninde, saying she is an effective mobiliser with good ideas which help the people.

Rugunda also urged Opposition leaders to join NRM for the betterment of the country.

"I pay tribute to other political leaders who do not believe in NRM. If the Government is elected into power it has the mandate to serve people and you are expected to work closely with them so that the country makes progress," he advised.

He hailed Nsubuga for setting an example of how a leader should behave by helping promote government's goals.

Rugunda said people should be free to learn skills and knowledge, which will liberate them from poverty because they will get income.

"Wakiso district should be at the centre of training so that other political leaders should learn from it and extend it to their constituencies," Rugunda said.

He assured the graduates that the products they are making has big market.