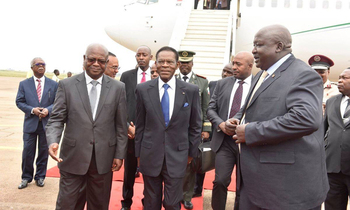 PIC: Foreign affairs minister Oryem Henry Okello (right) with other officials receiving President Teodoro Obiang Nguema (centre) at Entebbe Airport

NRM DAY CELEBRATIONS
KAMPALA - The President of Equatorial Guinea, Teodoro Obiang Nguema, has arrived in Uganda for a one-day official visit ahead of the National Resistance Movement (NRM) celebrations.

The head of state, who was received by foreign affairs minister Oryem Henry Okello at the Entebbe International airport, is in the country to grace the 32nd NRM celebrations slated to take place on Friday in Arua district.

The event which will be held under the theme, Uganda's liberation significant to our present and future development, will be held at Boma grounds in Arua municipality.

Over 200 distringuished Ugandans will be awarded different categories of medals for their critical roles played in the liberation and advancing development in the country.