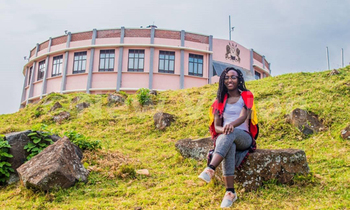 PIC: Yvonne Kushemererwa at the Kingdom of Toro

TOURISM

Miss Uganda North America 2017/18 Yvonne Kushemererwa completed her Cares Tour of Uganda on January 11, 2018.

The tour, dubbed 'Tourism, Culture, Charity' by its Austin-based organisers, included visits to Tooro kingdom, Kabarole's crater lakes, Kibale forest, Queen Elizabeth National Park and Jinja town.

The tour was co-ordinated by the Kingdom of Toro in conjunction with Uganda Tourism Board.

The queen stayed at some of the Fort Portal area's famous hotels. The most notable stay experiences included the boat ride on the crater lakes at one of Africa's most renowned eco lodges and a tree-planting exercise.
Yvonne Kushemererwa invites tourists to visit a tourism site


"My tour has been a door into the incredibly diverse and beautiful nature of Uganda. I have never felt so consciously connected to the land as I was during my tour. I am also glad that I got to use my skills as a community support worker during our charity runs," said Kushemererwa about her tour ending.

Stephen Asiimwe, the chief executive officer of Uganda Tourism Board said they were happy to partner with Kushemererwa in promoting the country.

"As young lady based in Canada with a sizeable following, we believe that Kushemererwa will afford us visibility as a country. Everywhere she has been, she and her team have taken pictures and videos and shared them on different social media platforms,"

"Right now the biggest travel segment is students and being a young woman who is prominent, we believe her experiences will resonate with this age group, especially with her peers back in Vancouver, Canada and Texas, the US, where the organisers of the pageant are based," Asiimwe said.

The beauty queen also carried out various charity activities. In Fort Portal, she delivered four specialised wheelchairs from the Ugandan community in North America to Kyaninga Child Development Centre.
Kushemererwa during the tree-planting exercise

In Nansana, she visited Pelletier Teenage Moms Foundation, where she delivered food and bursary from the Miss Uganda North America programme. In Jinja town, she participated in a book reading and delivered over 50 books from the programme to Alpha Junior Academy, a school that is supported by Ellah Foundation Uganda.

"We want to promote a culture of reading because knowledge is power," said the programme president Tibba, Murungi Kabugu.

"This year's Cares Tour opened a new connection between communities and businesses here and Ugandans living in North America through tourism, culture, charity and leadership. We intend to have the Cares Tour every year. There is a lot to do, with each year's charities, depending on the queen's passions. We are thankful to our partners. We are also proud of Kushemererwa for the way she has carried out her duties and wish her continued success," Murungi said.

During the remainder of her reign - which ends in August 2018, Kushemererwa plans to continue working to promote Uganda's tourism industry through her initiative 'Come with me to Uganda'. She also plans to open a group home to support persons with developmental disabilities and mental illnesses.


Kushemererwa on Nyinabulitwa Crater Lake at Crater Safari Lodge
Kushemererwa in Kibale Forest National Park
At Kyaninga Child Development Center, where four specialized wheelchairs were donated on behalf of the Ugandan community in the North America
Amabere ga Nyinamwiryu Caves and Waterfalls tour led by Latif Muhumuza