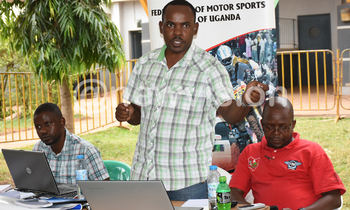 The Federation of Motorsport Clubs of Uganda (FMU) has released tough rules for the 2018 season that starts on January 26 with the Mbarara rally.

According to the rules, drivers who divert 50 metres from the route must return to the point of diversion to continue to avoid being disqualified.

The rules also state that no driver will upgrade to the National Rally Championship (NRC) if he or she has not competed in the Autocross and Clubman Rally Championship (CRC) in the last two seasons.
Drivers attending the meeting with FMU officials
Autocross is a rally event for beginners and helps them master their cars and improve their rallying skills using 2WD cars before joining the NRC where 4WD cars are used.

"Any driver shall first compete in the Autocross for a year, then the next year upgrade to the CRC before joining NRC in his or her third year," Federation of Motorsport Clubs of Uganda (FMU) commissioner Katende Mukiibi said in an interview.

"In these two categories of Autocross and CRC, a competitor must have completed six events of the national calendar year."

The new rules also require drivers to register their Crew managers at a fee of sh100,000.