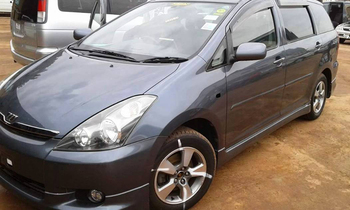 PIC: James Obore's car which was stolen

CRIME

SOROTI - Car owners in Soroti are set to have sleepless nights over the increased vehicle thefts in the region.

In a span of a month, thugs have made off with two vehicles in Soroti municipality, compared to the whole of last year when only three cars were stolen.

The grey Toyota Wish registration number UBA907E, which was stolen on Monday morning, brings the number of stolen vehicles to two within the same vicinity.

It was reportedly stolen from Agip cell in Kengere ward Eastern Division between 2:00am to 3:00am.

The car belonged to James Obore, a civil servant, working at the district local government.

The Police suspect that the thieves could have used the same method of breaking the car lock and driving off with it.

Around the same time at 4:00am, thieves attempted to steal another car registration number UAU937Q Toyota Spacio, which was parked at Nakatunya ward in Northern Division within the municipality.

"The thieves broke into the car, but failed to start it and by the time we reached there, they had taken off," Michael Odongo, the East Kyoga regional Police spokesperson, said.

According to the Police, two cars have so far been stolen, but other four failed attempts have been made to steal cars since the beginning of the year.

On January 11, 2018, thieves stole a car belonging to John Eitu, the bishop of Global Harvest Church in Soroti town.

The car was registration number UAT576A Silver Toyota Rangers Wagon and it was taken from senior quarters.

Odongo said thieves that night attempted to steal three other cars at Focus Guest House in Soroti town.

"The thieves had destroyed the car locks, but were unable to drive the cars," Odongo said.

The spokesperson noted that all the cars either stolen or made an attempt on were parked in open compounds, without security guards.

Odongo urged the car owners in the region to safeguard their vehicles by keeping them in garages and locking them with chains.

He also urged them to keep their cars in fenced homes with strong gates or take them to areas that are guarded at night.