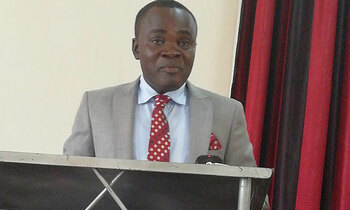 PIC: New MUASA chairperson Dr Deus Kamunyu Muhwezi. (Photo credit: Makerere University)

EDUCATION

KAMPALA - The new Makerere University Academic Staff Association (MUASA) executive was sworn in on Monday.

Dr Deus Kamunyu Muhwezi took over as the chairperson, replacing Dr Muhammad Kiggundu.

In his remarks during the swearing-in ceremony thanked the outgoing team for their achievements,including starting a SACCO.

He said in his tenure, they would build a secretariat that would identify with the MUASA membership.

Muhwezi added they are looking into staff wages as well through dialogue.

"We have already started talking about salary enhancement."
Dr. Kiggundu, out-going MUASA Chairperson, tasks in-coming team to devise a new model to achieve salary enhancement for staff @MakerereU, @ProfNawangwe pic.twitter.com/LstuT78SXQ

— @marionalina (@marionalina) January 15, 2018

On his part, Kiggundu called for co-operation among the members. "Some policies are unfair to staff. There are some challenges, but we need work together," he said.

Prof. William Bazeyo, the Acting Deputy Vice-Chancellor (finance and administration) of Makerere University, congratulated the outgoing executive on choosing dialogue over salary enhancement negotiations.

He urged the new MUASA executive to work together with the university management to raise resources to enhance staff renumeration.

Makerere University Vice Chancellor Prof. Barnabas Nawangwe hailed the outgoing team for co-operating with the university management.