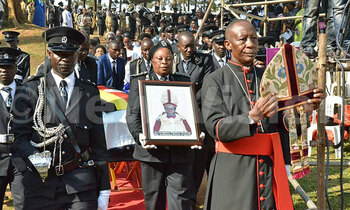 (Credit: Drake Ssentongo)

LIVINGSTONE MPALANYI NKOYOYO: 1938 - 2018

KAMPALA - Various officials are delivering their eulogies during a special funeral service for former Archbishop of Church of Uganda Livingstone Mpalanyi Nkoyoyo at Namugongo ahead of burial later on Tuesday.

Bishop Wilberforce Kityo Luwalira of Namirembe Diocese is leading the prayers at the Namugongo Anglican Shrine.

Several high-profile figures, including officials from the Government, Buganda Kingdom, the Church and the Muslim community are attending the service.

Prime Minister Dr Ruhakana Rugunda, the Nnabagereka of Buganda, Sylvia Nagginda, Katikkiro Charles Peter Mayiga and Mufti of Uganda Shaban Mubajje are there.

Also among the mourners is Apostolic Nuncio to Uganda Michael August Blume.

Speaker after speaker have described Nkoyoyo in glowing terms, particularly on his role in the Church and nation-building.

When the casket carrying the remains of Nkoyoyo arrived at Namugongo, it was wheeled into the Uganda Martyrs Museum, where a prayer was held.
Bishop Luwalira (left) is leading the funeral service at Namugongo
The Police band played tunes as the body of Nkoyoyo arrived at the martyrs shrine
Officers of the Uganda Police formed two files as the casket arrived at the Nakiyanja (the Anglican martyrs shrine)
A prayer was held inside the Uganda Martyrs Museum
During the procession . . .
Members of the clergy were part of the procession
Former Archbishop of Uganda Henry Luke Orombi greets a member of the Mothers Union
The widow, Ruth Nkoyoyo, is also a member of the Mothers Union