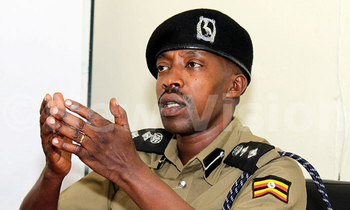 PIC: Police Spokesperson Emilian Kayima said the forces are able to handle demonstrations. (file photo)

Police has warned the Opposition politicians against inciting illegal political assemblies.

The Police spokesperson, Emilian Kayima, warned: "We are able to handle the demonstrations and we shall fail them."

The Police warning followed reports that the Opposition politicians, come Tuesday, January 9, they would hold demonstrations in the city and other parties of the country to denounce an Act of Parliament that lifted the presidential age limit.

Parliament towards the end of last year passed the Constitutional Amendment Bill 2017 (age limit Bill), which the President assented into law on December 27, 2017, according to State House.
Ibrahim Semujju Nganda insists it is the Opposition's right to demonstrate if they feel something is not right

Speaking to the New Vision on Friday, Kayima, said Police would not allow risking people's businesses in the city centre.

The Opposition Chief Whip in Parliament, Ibrahim Ssemujju Nganda, said no one has the right to interfere with the rights of others who feel that things are not right.

Some sections of the business community in Kampala have also appealed to Opposition politicians not to interfere with business activities in the city centre.

This was during their press conference hosted at Nakivubo Blue Primary School in Kampala yesterday.