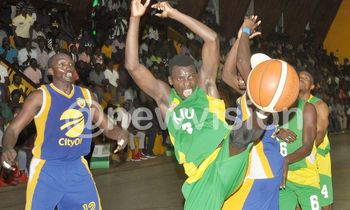 KIU Titans' Samuel Agutu (center) is fouled by City Oilers' Landry Ndikumana as Steven Omony (left) closes in during game-one of the best of seven final play-offs at Lugogo on January 5, 2018. PHOTO: Michael Nsubuga
National Basketball League
Men's Playoffs
Results
City Oilers 74 KIU Titans 72
The moment every local basketball enthusiast was waiting for; the National Basketball League men's final.
A classic game one of the best-of-seven series between two headstrong sides City Oilers and KIU Titans Friday at the Lugogo Indoor Stadium, left everyone yearning for more.
In the end, it is the maximum points that matter and City Oilers' 74-72 win was a huge relief in the game of nerves. But then, the edge- of-your-seat moments created one of the most entertaining games in recent times in local competitions.
"This is no doubt one of the best games I have watched; there has been so much life to it," said James Opio, one of the many fans that attended.
City Oilers' Jimmy Enabu (left) beats KIU Titans' Sudi Ulanga during game-one of the best of seven final play-offs
The crowd was awakened in the dying moments of the fourth quarter when KIU Titan's Dennis Balungu took aim and got the three points to level the game on 62 points apiece, sending the game in over time.
Jimmy Enabu's last gasp two points cut through so many hearts of KIU players and fans, losing by a whisker can only hurt the more. Enabu scored a game high 17 points as the Oilers wrestled hard to claim game one.
The evergreen Sudi Ulanga scored a team best 16 points for the KIU Titans who are determined to pick up their piece in game two on Sunday at Lugogo.
"We have not been so good with our rebounds but the fighting spirit is all that important. The hope is still alive" said Brian Watum, coach for the KIU Titans.