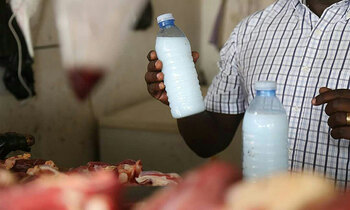 PIC: One of the unregulated preservatives used for meat. (Courtesy photo)

INVESTIGATION

Are you a fan of meat, fish, chicken or grasshoppers (popularly known as nsenene)? Do you know the preservatives your local butcher's shop, supermarket or nsenene vendor uses to keep their foodstuff fresh?
An investigation by Saturday Vision has revealed that many of the meat and food vendors across the country, especially those dealing in meat, chicken, fish and nsenene, use unregulated preservatives to make foodstuffs look deceptively fresh.

The one-month investigation also found out that the practice has been exacerbated by lack of proper monitoring mechanism from the institutions tasked with supervision, such as Kampala Capital City Authority (KCCA), the health and agriculture ministries, and also the Uganda National Bureau of Standards (UNBS).

There are fears that hundreds of lives could have been exposed to the risk of procuring ailments, such as cancer, due to the excessive use of large amounts of illegal chemicals used in the preservation of meat and fish.

In 1986, the US Food and Drug Authority (FDA) banned the used inorganic salts. However, they still exist in our chemist shops and can easily be accessed by food traders for their use.

The Saturday Vision investigation heavily relied on eyewitness accounts, secret recordings and also lab tests carried out on fish and meat samples, which revealed the presence of traces of formalin and inorganic salts, which pose a health hazard to consumers.

Out of the nine butcher's shops sampled in Bweyogerere trading center, in the outskirts of the city, seven of them were found to be using the dreaded formalin drugs to both keep the meat fresh and keep flies away.
The investigation further revealed that sodium metabisulphite, which is whitish, is easily available at several chemists downtown Kampala and is then mixed with water and sprayed on the meat to maintain its reddish hue and to create the impression it is still fresh -- yet it is not.
The study revealed that the practice is in other districts, such as Jinja and Mbarara. As thus, thousands of lives are at risk.

A number of high-profile supermarkets that sale fresh meat were found to be using inorganic salts and sodium metabisulphite, which is used as a disinfectant, to keep the meat 'fresh'.

An online search on www.livestrong.com about the use of sodium metabisulphite indicates that it is used to preserve food and extensively in commercial wine making.
"It is a bleaching agent in the textile, pulp and paper industries. It is also used in the chemical, pharmaceutical, film and photographic industries, and even in water and sewage treatment plants," the website states.
However, pure sodium metabisulfite can be hazardous. Besides causing respiratory problems, its inhalation irritates one's respiratory tract.
Symptoms include coughing and shortness of breath. In some individuals, sodium metabisulfite may cause an allergic, asthma-type reaction," the website says further.

At Ntinda market, most of the butchers that Saturday Vision spoke to appeared surprised, although some of them admitted they were using the chemicals to deter flies as well as keep the meat fresh.

At Kireka market, one meat trader seemed unbothered. "I have been using this mixture (sodium metabisulphite plus water) for several years, but I have never heard any of my clients complain about any ailment after eating my meat," he said.

At the Busega roundabout, which is popular for fresh fish, we observed a vendor, later identified as Nsubuga, constantly immerse fish he had displayed for sale in a basin of water. We later learnt the is solution was of water and sodium metabisulphite.

When Saturday Vision subjected the meat and fish meat samples purchased from supermarkets and butcher's shops to an independent laboratory for tests, the test results confirmed the presence of deadly chemicals that were used to keep away flies and the meat fresh.

The tests carried out early December last year confirmed 82 milligrams of sodium metabisulphite in three samples purchased in Bweyogerere, 54 milligrams in the samples purchased in Kireka while the last test confirmed 28 milligrams in the samples from Ntinda.

On formalin, the tests confirmed 15 milligrams on the samples from Bweyogerere, 29 milligrams from the samples from Ntinda and 48 milligrams from the samples from Kireka. For the fish bought from Busega market, the tests confirmed 27 milligrams of formalin.

Meat distributors speak out

In an interview with Saturday Vision, city abattoirs spokesperson Wilberforce Mutesasira said they had been told about the practice, but that their role in the sale of meat was restricted to its distribution from the slaughter house and not monitoring how that meat is sold.
He, however, admitted he was aware some of the meat traders were using artificial methods, including spraying the meat with chemicals, to make them appear fresh.

"We condemn the pratice, but then, we can do little about it. It is the role of the veterinary department in the agriculture and health ministries to ensure they carry out periodic checks on the meat sold on the market," Mutesasira said.

KCCA speaks out

Dr Emiliano Ahimbisibwe, the Kampala Capital City Authority (KCCA) chief veterinarian and the head of heath Inspection, appeared shocked when shown the Saturday Vision investigation findings.
He insisted they were not aware of the practice, but that their team would launch a crackdown on the vice.

"It is completely unthinkable that meat sellers use formalin on meat in order to keep off flies or keep it fresh," Ahimbisibwe said.

He noted that, as KCCA, they inspect the health conditions of cows before they are slaughtered and inspect the meat before it is dispersed off to the local butcheries.

"We do occasionally carry our inspections every Wednesday, which is the veterinary inspection day, and we inspect meat that is being sold in the open market. We have not been putting emphasis on this (using unregulated preservatives), but this is news. Please share it with me and we shall act," Ahimbisibwe said.

Unsafe meat processed at city abattoir

A source at KCCA told Saturday Vision that KCCA was no longer in full control of the abbatoir, owing to the fights between the traders and the former lease hold owner Hassan Bassajjabalaba.

Saturday Vision has also learnt that because of lack of thorough supervision, unhygienic meat, like that of dead calves extracted from slaughtered cows' wombs, was being processed into minced meat and later repackaged for delivery to supermarkets or sold to those who wanted to make samosas.

What experts say

In an exclusive interview with Saturday Vision, Sabrina Kitaka, a medical personnel, said formalin is a name of a chemical substance consisting of a mixture of formaldehyde, methanol and water that was widely used as a preservative of dead bodies, but has lately been misused as a food preservative.

Kitaka said when used to preserve corpses, formalin had proved to be helpful in keeping the body from decaying, especially when it is meant to be stored for a long time or for use in laboratories.

"For example, if we combine this formalin with a material, such as fish or meat, the formalin will be absorbed by the fish with ease, and then the formalin will remove cells from the fish and replace it with the more rigid formaldehyde.
The result will be that the preserved meat or fish will survive for a long time because formaldehyde can kill microbes or germs, which usually play a role in the process of decay," Kitaka said.

She, however, warned that meat preserved using formalin can be dangerous if consumed.

"The Government has issued laws that prohibit the use of formalin in food. However, in fact, there are still many foods markets using formalin and the drug is circulating freely," Kitaka warned.

Meanwhile, Simon Tebyasa, another expert, told Saturday Vision that formalin has been used in food preservation for some time, even in the developed world. "The only difference between Uganda and other countries is how it is regulated and how much education people have in using it."
He added: "It should never be used without guidance from food scientists and regulations in place. In the US, the Food and Drug Agency approved it to be used in preservation of some foods, but again, there are dangers if not used rightly."

Effects of formalin?

According to Kitaka, if one frequently eats foods that are preserved with large doses of, or excessive, formalin, "it will over time cause irritation to the stomach, causing vomiting, dysentry or even death".

She also warned that the most common result of chronic poisoning due to eating foods that are often preserved with formalin damaged kidneys.

Ingestion of foods with formalin can also cause cancer.

An online search on www.livestrong.com also indicates that, "ingesting pure sodium metabisulfite irritates your gastrointestinal system as it reacts with acid in your stomach by releasing sulfurous acid. Ingesting high amounts may cause nausea, vomiting, diarrhea, abdominal pains, circulatory disturbance and central nervous system depression. A fatal dose is estimate to be 10g for the average adult".

Identifying meats preserved with formalin

According to David Kiwanuka, a butcher in Kampala, the best way to determine whether a butcher uses either formalin or any other substance is the absence of flies on his stall.

"Most of the butchers I know of today in Kampala use the drug formalin to repel flies from meat. They also use the same drug to keep the meat looking fresh," Kiwanuka told Saturday Vision.

"It is strange that some people associate flies with dirtiness, but as an experienced butcher, I will tell the consumers to buy the meat with flies if proven it is not spoilt or come directly to Meat Packers and purchase fresh meat," he advised.

A former butcher who spoke to Saturday Vision said the easiest way to determine whether the meat had formalin was to check out its texture. "Meat contaminated with formalin usually has a rubber-like hard surface and will also be stiff. It will also not smell like the ordinary meat," he said.

Who sells the illegal drugs?

An on-spot visit to the chemists and pharmacies in downtown Kampala revealed that some of the chemicals used in preservation were freely sold over the counter, without much questioning on why one wanted them.

With regards to formalin, our contact at Kirudu Government Hospital secured us a bottle at sh40,000 and clearly, there were no restrictions or questions asked on what we wanted to use the drugs for.

Several meat vendors we spoke to said they access the medicines from hospital and lab staff through their agents.

What should you do

According to Mutesasira, one should immediately report the matter to police or inform the local authorities. "We have no right to confiscate their meat products, so we urge you to report to the authorities."

A senior medical expert that did not want to be quoted told Saturday Vision that the threat of using formalin and other chemicals was real. He, however, offered advice on what one should do in case they bought meat suspected to be sprayed with the drug.

"Add one cup of vinegar to water and soak the meat in the solution for about 30 minutes and then later wash the meat thoroughly," he says.

He also urged consumers to be play it safe by buying meat from a slaughter house or when it is still fresh at the butcher's shop.