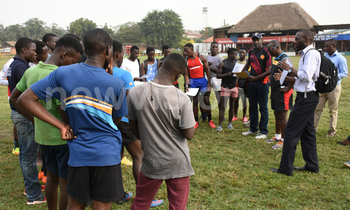 In a bid to add depth to the national rugby 7S team, coach Tolbert Onyango has started preparing 36 youth players for future assignments.

Onyango is conducting the training at Kyadondo Rugby Club in Kampala. The training is focusing on the basics of rugby and tactics.

"We want to bridge that gap between the current players and the upcoming players and that is why we have started a programme for a junior team," Onyango said after training session on Wednesday evening.

"We have got players from schools in Senior four and Senior six vacation from schools in Eastern, Western and central Uganda. We shall be going to the north because there is talent in that region."

The Rugby Cranes 7s team will be playing the HSBC qualifiers in HongKong and the Rugby World Cup 7s.