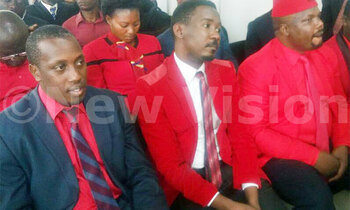 The MPs that were suspended from Parliament in court Wednesday morning. (Credit: Meddie Musisi)

COURT | PARLIAMENT

KAMPALA - The High Court in Kampala on Wednesday referred a case involving suspended Members of Parliament to the Constitutional Court.

In the case, a group of MPs are challenging their suspension from Parliament last month by the Speaker, Rebecca Kadaga, during the presidential age limit debate.

On Wednesday, the presiding judge, Justice Margaret Oguli-Oumo, the deputy head of the civil division of the High court, referred the case to the Constitutional Court, saying it was a matter of interpretation.

"This is a matter of constitutional interpretation and the High Court has no powers to handle it," Oguli-Oumo ruled.

Her ruling was delivered by the assistant court registrar, Joy Kabagye.

Speaker Kadaga suspended the MPs during the debate to lift the presidential age limit. The Bill has since been passed by Parliament and was signed into law by President Yoweri Museveni on December 27.

The suspended lawmakers are Gerald Karuhanga (Ntungamo Municipality), Jonathan Odur (Erute County), Mubarak Munyagwa ( Kawempe South), Anthony Akol (Kilak North), Allan Ssewanyana (Makindye West) and Ibrahim Semujju Nganda (Kiira Municipality).

Earlier on Wednesday, the Leader of Opposition in Parliament, Winfred Kiiza, and some of the suspended MPs arrived at the High Court, set for for hearing of the case in which the Speaker was expected to defend herself over the suspension of the legislators.

They legislators suspended for a period equivalent to seven sittings for misconduct.

Also present at court were supporters of the ruling National Resistance Movement (NRM), who felt they equally needed to attend and follow the court proceedings.

The NRM supporters, who stood outside court, held placards with messages supporting Kadaga's decision to suspend the MPs, arguing that she did so in accordance with the law.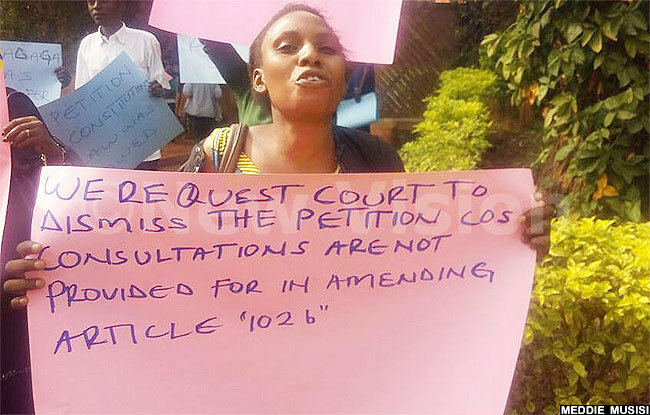 An NRM support, who wants court to dimiss the case, holds up a placard outside court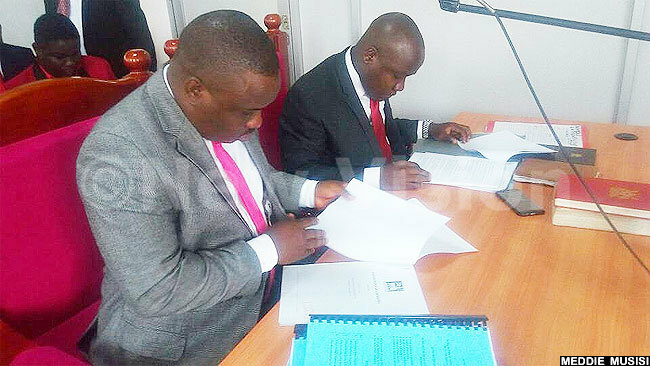 The legal team of the suspended MPs, led by Erias Lukwago (left) going through documents at court on Wednesday

Lawyers representing the Speaker, led by Cherotic Stinah, were also at court. There was heavy Police deployment at the court premises.

The lawyer of the suspended MPs, Erias Lukwago, last week said they intended to cross-examine Kadaga on the way she handled the legislators.

The MPs accuse the Speaker of ordering them out of the parliamentary chambers without giving them a hearing, yet they were discharging their constitutional mandate to draw the Speaker to rules of procedure in relation to representation of the Bill.

They further accuse the Speaker of acting in total disregard of provisions of the law by suspending them, after she had already adjourned the House, which meant she had ceased to have powers to suspend them.

They wanted court to declare the Speaker's decision unlawful and set it aside.

Last week, Justice Oguli-Oumo issued fresh summons against the Speaker and the Attorney General, William Byaruhanga, after they had failed to show up in court.